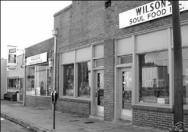 Athens has many downtown hot spots, but "The Hot Corner" has to be one of Athens oldest and most beloved local traditions.

During the early 1900s, the corner of Washington and Lumpkin Streets, nicknamed "The Hot Corner," was the center of cultural life in the Black community. Today, the Hot Corner Association, non-profit organization, preserves this history by presenting the Hot Corner Celebration and Soul Food Fest.

The 9th annual Hot Corner Festival will take place Friday May 1 and Saturday May 2. Friday's festivities will include a concert in the Morton Theatre from 8 p.m. to 10 p.m. Tickets are $10 in advance and are on sale at the Morton Theatre.

Saturday will include an all day street festival from 10 a.m. to 7 p.m. at the corner of Hull St. and Washington St. Saturday night, return to the Morton Theatre from 8 p.m. to 10 p.m. to view "Fashion: Imagination Unrestricted." When a fashion design student has a short amount of time to finish her senior project, it is up to her imagination to get her out of the fashion dilemma. Fashion designs from local Athens and Atlanta designers and businesses will be shown. Tickets go on sale in April and they are $12 in advance.

For more information contact Legendaryeventplanning@gmail.com.