Easter weekend is here! Spend your holiday in Athens, GA with the beautiful weather and several exciting Easter events fit for the entire family. 

With an array of Easter activities for the entire family and entertaining performances,we know you will have an amazing weekend in Athens, GA! Here are a few exciting ideas that hopefully will spark your interest  for this holiday weekend.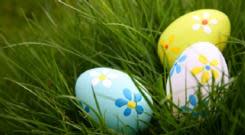 Bring the family to meet Mr. Bunny and have a picture taken with him! Children will enjoy hunting for eggs and winning prizes. Adults can even enjoy the blindfolded Easter Egg hunt in which t
wo-person teams will compete for prizes and all participants will search blindfolded verbally guided by a teammate.There are egg hunts planned for people of all ages. Some require a fee, and some are completely free! Here is a complete list of the scheduled Easter egg hunts:
Friday:
 Easter Egg Hunt; Parkview Community Center; 4-6 p.m.
Saturday:
Meet Mr. Bunny and Pictures; Rocksprings Community Center; 9 a.m. (photos $1)

Breakfast with The Bunny; Memorial Park; 9 a.m. AND/OR 10 a.m. ($8 ACC resident, $12 non-resident)

Easter Egg Hunt; Rocksprings Community Center; 11 a.m. 

Easter Egg Hunt; East Athens Community Center; 11 a.m.

Easter Egg-Stravaganza; Lay Park Community Center; Noon

Blindfolded Easter Egg Hunt for Seniors; Lay Park Community Center; 1 p.m.
Bring the family for a special Easter brunch at a garden celebrating spring with blooms and songbirds, with walkways that are easy to navigate with strollers and wheelchairs, lawns that make you want to kick off your sandals, and benches where you can relax. 
Gather the family for a special Easter brunch at The State Botanical Garden of Georgia. Donderos' Kitchen will be serving a buffet brunch on Easter morning in the Visitor Center & Conservatory.
Guests will enjoy a buffet menu that includes ham, biscuits, grits, fruit, brunch egg casserole, French toast casserole, an assortment of handmade baked goods, and drinks: coffee, orange juice punch and tea. The Garden Gift Shop will be open. Call to make reservations or for more information. Reservations are recommended, as seating is limited.Tickets are $18.95 per person; $8.95 children 5-12; and free for children 4 and under. This event will take place Sunday from 11:30 a.m. to 2:00 p.m.
This Easter, why mess up your kitchen? Forget the dirty dishes and join Foundry Park Inn for a delicious Easter Brunch. They have something for even the most finicky members of your family, from omelet and waffle stations to a delicious assortment of salads, hot dishes (including a honey roasted ham carving station), and more! And no good brunch would be complete without dessert - there will be a wide assortment of cobblers, pies, cakes, and sweet delights! This will take place on Sunday from 11:30 a.m. to 2:30 p.m. The brunch will be $24.95 per person, so make your reservations today!
These were just a few of the exciting events going on this weekend in Athens. Here are a few more ideas that you should definitely mark on your calendar!
Friday:

Friends First Friday: Plant Sale Secrets

at State Botanical Garden of Georgia. Gather for a made-from-scratch breakfast by Countryside Catering and find out what brings folks to the Garden to visit and volunteer. Get insider tips for shopping the plant sale, special plants that will be available, and more. This is perfect for plant enthusiasts! This event will take place from 9-10:30 a.m.

Friday:

Froggie Spring Fling

at Sandy Creek Nature Center and ENSAT Center. Bring
the family out for an evening of amphibian hunting. There will be time to learn about several amphibians found in the area, followed by a search for newts, salamanders, and frogs. This event is perfect for families, and is for children 4 years and older. This event will take place from 7-9 p.m. It will be $7 for Athens Clarke County resident families, and $10 for non residents. This is an exciting event for everyone! 
Saturday:

2012 Cultural Fusion

at Tate Student Center at UGA. Don't miss out on performances, such as UGA Ballroom group and Street Rhythm Band! Emceed by Relay for Life star Josh Buce. Join in for a chance to win prizes and a tablet! Food for sale from sponsors, such as SunO and Olive Garden.This event will be from 7-9 p.m. and there will be no admission charge!

These are just a few of the many exciting events taking place in Athens,GA. Hopefully you've read something that you are looking forward to!
 Be sure to check out our
 

Visit Athens, GA

 
calendar
 for a full list of even more events and activities! 
To stay in the know about what's coming up in Athens, join our mailing list!
What are your Easter plans in Athens,GA?