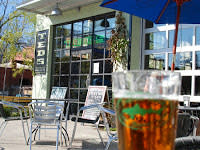 As the New Year kicked off, my desire to become healthier did as well. Eating healthy on a college student's budget can be a challenge, especially when wanting to dine out. A friend recommended that I try the new restaurant

Ted's Most Best

for some "delicious"  healthy food.
Ted's Most Best

can be found at 254 W. Washington Street in Downtown Athens, GA in an old tire storage garage. However, the renovations they did on the inside are phenomenal.

Ted's

was opened in the summer of 2011 and was named after the late Grit owner, Ted Hafer. Since it has been open, their delicious pizzas, salads, and paninis have been enjoyed by many. They strive to get as many locally grown ingredients that they can, which is beneficial to both the community and one's health. You can even get your favorite beer and wine to go along with your meal.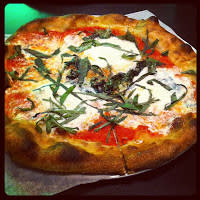 So when venturing out to try this new restaurant, I was pleased when I walked up to a building with dazzling lights on the outside, and a beautiful chic inside. The atmosphere was very cozy, and the staff was very friendly. The middle garage door was opened when I went, which allowed the beautiful weather to be enjoyed by all.
Their menu included a multitude of healthy yet delicious foods to choose from. Me being a pizza connoisseur, I made the right decision when choosing the Margherita Pizza with fresh basil and mozzarella.
Ted's Most Best

has definitely become a spot I frequently dine for both lunch and dinner with my friends. The eclectic and inviting atmosphere is something I always look forward to, but their food is something you'll definitely crave!
Have your next meal at

Ted's Most Best

 and tell us what you think!