Home to over 40 bars, 55 restaurants, and 65 retail shops, Downtown, Athens, Georgia, offers something to satisfy every craving and desire.  Athens' delectable

food scene

has exploded during recent years, and is now a well-known feature of the Classic City.  I wanted to share a few of my favorite places with you, and I hope you will share yours with us!







Hugh Acheson
I'm not the only one who has noticed the quality of Athens' food, though, and several Athens restaurants have received well-deserved accolades.  Hugh Acheson, who proved his culinary talent to the nation on the TV show Top Chef,  has been "wow-ing" Athenians since 2000 at his signature restaurant, 
Five & Ten
.  
Food and Wine
magazine named Hugh as one of America's Best New Chefs, and he won two James Beard Awards (the Oscars of the Food World) in 2012 one for Best Chef: Southeast, and the other for Best Cookbook for his "A New Turn in the South."  
Five & Ten
was also named Restaurant of the Year by the
Atlanta Journal-Constitution
in 2007 and won the Silver Spoon Award in
Georgia Trend
magazine.  Last but not least, the restaurant is a semi-finalist for Best Wine Program in 2013.  Acheson's latest endeavor is relocating the beloved
Five & Ten
to the nearby Hawthorne House on South Milledge Avenue.  Mary Charles Howard, the owner of
Athens Food Tours
, got all of the details in an interview with Hugh, which can be seen
here
!  I personally had withdrawals from their Salmon Benedict even during the brief time they were closed for the move!
Weaver D's Delicious Fine Foods
is another spot that Athenians like to show off.  With a thick home-cookin', country feel, you are sure to leave with an stomach full of juicy fried chicken, mac 'n cheese, and everything else you could dream of at a holiday meal.  Weaver D's fine southern cooking was awarded the James Beard "American Classics" award in 2007.  This place defines "soul food" with items such as fried green tomatoes, wings, stews, fried chicken, liver, fried okra, collards, pecan pie, and banana pudding - and don't forget your sweet tea!  Whether it's your first or fortieth visit, bring the whole family and prepare to be stuffed!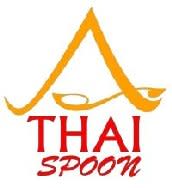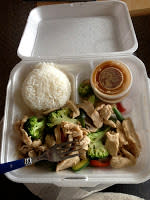 When you've had your fill of fried chicken, venture out and try
Thai Spoon
, located on Lumpkin Street between Broad and Clayton.  Their close-knit staff works hard and proudly serves some of the best Asian dishes in Athens.  My ersonal favorite dishes include Masaman Curry, Yellow Caree Curry, and the Cashew Nuts entrees.  Vegetarian options like tofu and veggie substitutes are available too. You won't regret trying this place!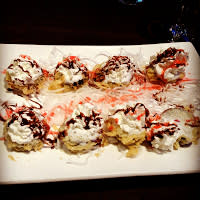 No matter if you're looking for a romantic date or an exciting party,
Shokitini
is a great dining choice for all occasions.  A personal favorite of mine, Shokitini's Japanese fusion cuisine offers every sushi roll you can imagine as well as chicken, pork, lobster, steak, shrimp, salmon, calamari, scallops, and vegetable dishes.  Perhaps the most unique aspect of this restaurant is their Karaoke rooms, which accommodate 6-30 people.  Participants get to dine in a private room and be entertained by the fun that unfolds.  Oh, and the Fried Oreos (pictured below) might just change how you view dessert altogether.  Delicious!
Being a "foodie" at heart, I could truly go on forever recommending delicious
Athens restaurants
.  Hopefully, you learned more about at least one of these places and will try them for yourself.  However, an Athens food post isn't truly complete without a loving shout out to
The Last Resort Grill
and
East West Bistro
, traditional Classic City choices that have both been Wine Spectator Award of Excellence.  No matter which Athens, Georgia eatery you choose, chances are you will enjoy every bite!  We are interested to know your favorite Athens restaurants, so please comment and tell us about your favorite place!