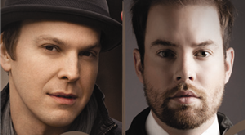 Classic Center Theatre Director Philip Verrastro says that good seats are still available for Gavin DeGraw w/ David Cook and special guest Carolina Liar!  This three-act special booking is November 10, 8 p.m.  on The Classic Center Theatre Stage. Three great acts for the price of one ticket!


David Cook is a former 'American Idol' Champion (Season 7), had his first record go Platinum, and released the Nashville Music Awards 2009 Song of the Year and huge radio hit "Time of my Life"…Gavin DeGraw is well known for his hit radio songs "Chariot," "Follow Through," "I Don't Want to Be" (which has been featured as the theme song for the television drama series, One Tree Hill since 2003), "In Love with a Girl," and recently "Not Over You."

Kicking the night off, Carolina Liar is an LA-based band that toured endlessly in support of their last album, sharing stages with the likes of One Republic, Rob Thomas and The Academy Is. . .  They've also performed on "Jimmy Kimmel Live" and "The Ellen Degeneres Show," played themselves in an episode of "90210," were spotlighted as a Rolling Stone "Breaking" artist and were featured in both MTV's "Discover & Download" and VH1's "You Oughta Know" programs.

Get your seats now at http://www.classiccenter.com/ , 706.357.4444, or at the Classic Center Box Office at 300 N. Thomas St., downtown Athens, GA.