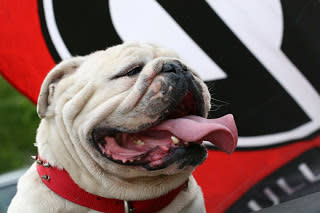 The first home football game is almost here! UGA will take on the University of South Carolina on Saturday, Sept. 12. Keep up with the Dawgs with these great events leading up to & throughout the game, and don't forget to visit the Athens Convention & Visitors Bureau's website for gameday parking, last-minute hotel rooms in Athens, and other travel tips.

Friday


Start your morning off right with

Mark Richt & the Bulldog Breakfast Club

at 8 a.m. Admission is $20 Alumni Assoication member & $5 student member. Register in advance here. The event is located in the Tate II Grand Hall.
Have breakfast with Mark Richt &

lunch with the dawgs

at 11:30 at the Melting Point! This week's speaker is former UGA quarterback and current color voice of the Dogs, Eric Zeier. Tickets are $15 & include a buffet lunch.

Finish up the day with some tailgate food! Come out to the Alumni Assocation's Tailgate Cookoff.

The Dawg Bowl Tailgate Cook-off

starts at 5:30 p.m. Friday at the Wray-Nicholson House. Dishes can be entered in the appetizer, side, entree or dessert categories. The cost is $20 per food entry or $60 to enter a tailgate team. If you want to sample the dishes, that'll cost $3.


Football Friday Nights at the Melting Point

- Sons of Sailors (Jimmy Buffet Tribute band) will be performing. Tickets are $10 in advance & $13 at the door.

More Music! Catch Sister Hazel at The Classic Center, or be on hand for the grand opening of the new Rialto Room at Hotel Indigo-- David Smits is performing.
Saturday

It's game day! Hotel Indigo Athens will serve as the football gameday broadcast location for the Georgia Bulldog Radio Network. Fans will now be closer to the action (shows were previously broadcast out of Atlanta). A brand new hour of pre-game entertainment, 'The Bulldog Gameday Show", will air live from Hotel Indigo Athens during the first hour of pre-game programming. The football post-game show will also air for an hour to an hour and a half after the game ends.


Magic 102

will be broadcasting live from downtown Athens for 2 hours before kickoff.

Show up on campus early & be loud at the

Dawg Walk

! Since there is no First Friday to pump up the dawgs this week they will need an extra large Dawg Walk, located in the Tate Center parking lot. The walk usually takes place two hours before the game, so it'll be around 5 p.m. for the South Carolina game.

Georgia Bulldogs vs. South Carolina Gamecocks

. The game starts at 7 p.m. but students are being urged to arrive early now that all student seating is on a first come basis.

GO DAWGS!


Not able to make it to Athens this weekend? Check back later next week for videos from the game!