When I was in high school, I spent every afternoon with my eyes glued to the Food Network. One of my favorite shows was Rachael Ray's "$40 a Day," where Rachael would travel to cities around the country and eat three meals for under $40. But not only did she eat meals; she also experienced a little bit of something unique that each city had to offer, whether it was visiting an art gallery or taking a historic tour through the city.
This is my version of that show, but this time it's in Athens, Georgia. It's also the more affordable, $30 a day version. As a college student, I love taking advantage of opportunities for fun things to do, and if they happen to be free, then that certainly doesn't hurt either.
So this is my guide to experiencing Athens, Georgia, for only $30. I'll tell you where to eat breakfast, lunch, and dinner, as well as the ways to spend your time in between, experiencing some of the most fun and unique activities that Athens has to offer (did I mention they're all
free
?).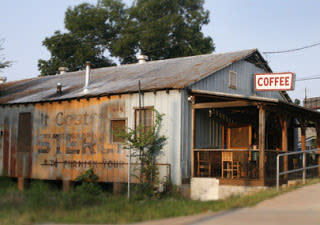 9 a.m.
Wake up to the smell of freshly made coffee at
Jittery Joe's Coffee Roasting
Company
, a local Athens business, where you can get up close and personal with your beans while they roast. Enjoy the aroma surrounding you while sipping on a cup of joe for around
$1.50
.
9:30 a.m.
Right up the street from Jittery Joe's you will find
Five Star Day Cafe
, a beloved local cafe that serves up some of the best breakfast around. Start off your day the economical (and delicious!) way with a Bacon, Egg'n Cheese biscuit for only
$3.50
.
10:00 a.m. - 12:00 p.m.
It might be early in the morning for some, but Athens is already bustling by breakfast time. If you're looking for a good way to spend your time before lunch, here are some fun and free morning activities:
If you're looking to get in touch with your inner "Yogi," Rubber Soul Yoga here in Athens offers free yoga classes at 10 a.m. most mornings during the week. Whether you are a yoga master, or simply wish you were, there's no better way to start your morning than with a little physical and mental exercise.
Athens is home to the State Botanical Garden of Georgia. Drive over there for an early morning stroll through gardens showcasing both local and international flora. Free to the public, the Garden also features several nature trails, a cafe and a gift shop.
The Georgia Museum of Art is also lucky enough to call Athens home. Nestled in the middle of the University of Georgia campus, the museum opens its galleries to the public Tuesday-Sunday. With many pieces of beautiful and historic artwork, the museum is definitely worth an hour or two of your time.
12:30 p.m.
Lunch time has finally rolled around, and after your yoga class, hike around the Botanical Garden and trip to the museum, you're famished. Nothing will hit the spot better than a plate of the best soul food that Athens has to offer. Two beloved and highly praised local soul food restaurants are
Weaver D's
and
Peaches Fine Foods
.
Fans of R.E.M. may remember their 1992 album,
Automatic for the People
, which was inspired by Weaver D's motto. And Mrs. Glenda's fried chicken at Peaches Fine Foods has developed a following unlike that for any other local fried poultry. At Peaches, you can get a meat, two vegetables, a bread (biscuit or cornbread) and a drink (sweet tea or lemonade) all for only
$8
. And I'm willing to bet it'll be the best $8 you spend all day.
2:00 p.m. - 6:00 p.m.
Lunch is over, and hopefully you didn't eat enough to put you into a fried chicken coma, because there's so much more to do this afternoon in Athens. And even better, you're not going to spend a dime on any of it! If you want to take a nap, then that'll save you some money too. But if not, check out these free activities:
Outside of its music scene, Athens is probably most widely known as the home of the University of Georgia (Go Dawgs!). Founded in 1785, UGA is the nation's first state-chartered institution, and with that date comes all kinds of cool and historic stories. Take a free tour of historic North Campus through the UGA Visitors Center and see where it all began.
Just across Broad Street from North Campus is downtown Athens. Rolling Stone has recognized Athens, GA, and UGA in their "Schools that Rock" college guide, and a few steps into downtown will tell you why. Filled with chic boutiques, quirky vintage shops, farm-to-table local eateries, and multiple notable music venues, Athens has something for everyone. Walking around downtown Athens is a fun and easy way to see what the city has to offer. And at least it's free to window shop, right?
If you'd rather trade in the city streets of downtown for the gravel and dirt lined paths of a local park, you're in luck. The North Oconee River Greenway offers 3.5 miles of trails and over 50 interpretive panels along the historic Heritage Trail. The Greenway also welcomes pet owners and picnickers alike to walk the trails and enjoy the recreation areas dotted throughout the park. Open sunrise to sunset, this park is free to anyone who'd like to walk, run, jog, or simply sit in a nice shady spot for the afternoon.
6:30 p.m. - 9:00 p.m.
No doubt that you've worked up an appetite from an afternoon of touring UGA, shopping downtown and taking a hike through the Greenway. What better way to spend your evening than with a meal at some of Athens' most highly esteemed restaurants? Yep, you can still afford it on your $30 daily budget!
Farm 255
and
Five and Ten
are two award-winning restaurants that focus heavily on farm-fresh produce and locally sourced ingredients.
Sit out on the patio at Farm 255 below the strings of twinkling white lights and let the live music from inside float out to you while enjoying a plate of shrimp and grits (
$17
) or a vegetable plate full of local Athens fare (
$12
). Or enjoy a glass of wine with a smaller plate of local cheeses (
$9
) or a refreshing cucumber and tomato salad (
$8
).
Fans of the show Top Chef Masters might remember the man with the very intense eyebrows. We like to think of him as Hugh Acheson, the executive chef of Five and Ten and a five-time James Beard Finalist for Best Chef: Southeast. Named "Restaurant of the Year" in 2007 by the
Atlanta Journal-Constitution
, Five and Ten is deserving of all the positive press it gets. You could have a light dinner of a bowl of corn soup with poached shrimp, vanilla and tarragon (
$8
), or go with something a little more substantial, like hand-cut pasta ribbons with roasted tomato and jalapenos (
$17
). Go early enough (reservations at 5:30, 5:45, or 6 p.m.) and get an entire three-course prix fixe meal for just
$25
!
If you want to splurge a little bit at dinner and go over your $30 budget, never fear, for you've only spent $13 by lunch time!
9:30 p.m. - bedtime:
Dinner is over, but the night is still young. After a full day of fun and mostly free activities in Athens, GA, you're likely about ready to lay your head down on the nearest pillow you can find. But if you're eager to see where the night can take you, then you've got options galore:
Enjoy live jazz at Highwire Lounge for free, unless you decide to get one of their delicious signature cocktails, which Highwire is known for. And if you're still under budget, or even if you're slightly over, why not?
Walk the streets of downtown until you hear the faint sounds of music you like, and then walk right in to that club and dance. Very few of the clubs in Athens have cover charges, so you're free to dance the night away anywhere you find music that gets your feet tapping.
If you forgot to bring your dancing shoes, no worries. Athens has a bustling nightlife that has something for everyone. Whether you want to dance, listen to live music, or relax with friends in a cozy booth, you're bound to find the perfect way to spend your night.
There! You've done it! You've experienced Athens in one day for only $30! And to think, this is only one day in Athens. Imagine what you could do with a whole weekend?

If you think we missed any great activities here in Athens, let us know! And if you attempt to complete the "$30 a Day in Athens" challenge, let us know about that as well!