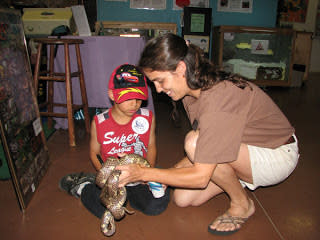 Rejoice and welcome the glorious month of June in Athens, GA. With plenty of great options for the family or friends, this sunny weekend is in no short supply of exciting summer activities.
If it's thrills you seek, then take a walk on the wild side, or at least the scientific side, at the
33rd annual Snake Day
this Saturday at the Sandy Creek Nature Center. This beloved Athens event examines the anatomy and life of nature's most infamous reptiles. Snake Day is packed full of slithery-fun crafts and games, but most importantly the event will center on hands-on, educational activities. Trained caretakers will be guides through the exciting world of snakes. Take advantage of the opportunity to get familiar with a wide assortment of snake variety, learn to identify them both venomous and non, and finally (gasp!) touch a scaly guy for yourself. So, don't be shy, get acquainted with some serpentine friends this Saturday from noon to 4 p.m. For more information about this event, visit our
calendar listing
.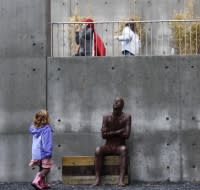 If the idea of a day of snakes still makes your hair stand on end, then brush it back and get your hands dirty with a ball of clay instead. Bring the family out to the Georgia Museum of Art this Saturday, 10 a.m. to noon, to
Go Figure!
, the museum's Family Day event. Get inspired by Icelandic sculptor Steinunn Thórarinsdóttir's installation, "Horizons", in the Jane and Harry Wilson Sculpture Garden before heading inside to form a sculptural creation of your own. Admission and refreshments will be free thanks to Family Day sponsors. For more information about this event, visit our
event listing
.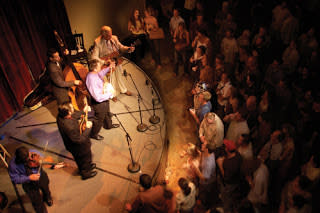 Make some classic memories of these sweet summer nights the best way we know how in Athens, GA- with a drink, fantastic food and great music. Find these 3 essential ingredients for a classic Athens night out at the Melting Point this weekend. Start the month and your weekend off right this Friday night with Swingin' Medalions, a timeless and well-respected group with an ear for tradition. And Saturday don't miss a true veteran of the blues, the Nighthawks' Jimmy Thackery will perform a musically emotional journey almost as heady as his career. Come enjoy food and drink around 6 p.m. until the artists take the stage at 8:30 p.m. For more information about who's on stage at the Melting Point this June, visit our
calendar listing
.
Take on the
Garden Geology
adventure of examining the Georgia Piedmont rock types in the State Botanical Garden of Georiga this Saturday beginning at 10 a.m.
Check out our
weekend calendar listing
for more great ideas and events happening in Athens, Ga this weekend!