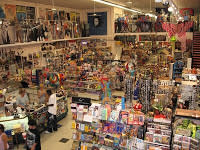 Junkman's Daughter's Brother, the fun and eclectic store downtown featuring an endless variety of goods, is featured in the newly released book "Retail Superstars."

George Whalin the author and researcher behind the book, spent several years personally visiting retail stores across the country. The book highlights the Top 25 stores Whalin believes to be the most interesting in the country.

Junkman's Daughter's Brother makes the cut and is featured in a 5-page spread! The spread details the owners and managers, how the business began, and how the owners developed the store into a successful venture.

Junkman's counterpart in Atlanta, Junkman's Daughter, is also featured in the book.

Curious about the names? Mark Gavron, owner of the Athens Junkman's, and his sister Pam Major, Atlanta Junkman's owner, chose to share a small bit of personal information when deciding on store names. Their father was in the surplus and salvage business, buying up random assortments of products from stores going out of business or discontinued lines.

For me, Junkman's is a must-stop shop to pick up unusual and amusing gifts. I am happy to see that Whalin agrees.

The book is now available at most major bookstores and online here.