Ever looking to escape reality for a bit with some of your closest friends? In Athens you can have this unique opportunity in countless ways. Everyone knows Athens is most famous for its music and nightlife, but three new places have emerged over the past two years proving creativity is also present in Athens, Ga business ventures from local entrepreneurs. Whether you are a current resident, a student, or just passing through, all of these places will bring out your inner child and guaranteeing a great time in the process.
Do you remember when you were a kid and all you wanted to be was 21? Think of Wonder Bar Athens as the reverse to that wish! Wonder Bar is exactly the place to let go of your inhibitions and enjoy a nostalgic trip down memory lane with all of your favorite childhood games. It perfectly combines Athens nightlife and childhood innocence by offering a chance to go back to a simpler time while indulging in all the perks of being 21+ years old. Not only are the games incredible, Wonder Bar also offers a variety of specialty drinks like a Game of Thrones themed beer (perfect for all of you Watchers on the Wall),  Capt'n Crunch Shots, and Jolly Rancher flavored drinks. If you work up an appetite while schooling all of your friends in an intense game of Galaga, make sure you order a fresh basket of Pizza Rolls before the next game. The joy of this bar is the ability it has to focus on the simplicity of what it means to have a fun time with friends. By letting go of the troubles of the present and diving into all of your favorites memories of the past, what is there not to love?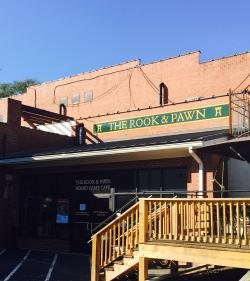 Another great, one-of-a-kind stop in Athens is the new board game cafe, Rook & Pawn. Dreamed up by owners, Tim and Carrie Kelly, and made possible by alternative funding sources such as their Kickstarter account, Rook & Pawn serves as a stellar addition to Athens downtown scene. With over 400 tabletop games (including board games, card games, party games, trivia games, etc), great food, gourmet coffee, and a variety of craft beers, wine, and specialty cocktails, there is no doubt this a place that houses true fun with family and friends. Cafes like this are fairly new and usually pop up in big cities like New York and LA, so take advantage of Athens being home to such a unique place. Rook & Pawn offers incredible deals and an even more incredible time whether you want to become a member (several levels to choose from) or pay the $5 all day pass. As a very competitive person myself, I cannot wait to get a group together to enjoy their delicious sandwiches and grab a Tropicalia while laying down the law in a classic game of Battleship or Elvisopoly, depending on how adventurous I'm feeling!

Now that we have talked a lot about playing games, imagine what it would be like to be transported into a game yourself. Not like a video game or a virtual game, but an actual scenario where you, in your own body, had to solve puzzles, riddles, and decipher clues in order to gain back your freedom. Although not as dramatic, Escape the Space in Athens, Ga requires you to work as a team to acquire the knowledge of how to… Escape the Space! Now that they have moved from their previous location in the Bottleworks building on Prince Ave. to their new building on Hawthorn Ave., they are excited to have the ability to hold larger groups and change up their rooms more often! They have a total of 3 rooms, all designed with a different theme, to put your mind to the test and see if your team has what it takes. Escape the Space is great for group outings and family bonding because it focuses on teamwork and putting all electronics down for one whole hour just to spend with each other.
Although I may be a little biased, Athens is by far the most fun town in the entire country. Not only is the town rich in culture and music, it also is also home to wonderful, out-of-the-box hangouts for every grown child to love! Whether you want to have a crazy night out on the town while enjoying your favorite childhood games at Wonder Bar, looking to grab a quick lunch and beer while challenging a co-worker to a friendly tabletop game of your choosing at Rook & Pawn, or get a group together to see who is capable of emerging victorious at Escape the Space, all of these places are 100% committed to you having a great time getting back to the simpler things in life. Combined, they serve as a great example of the quality of creativity in Athens, Ga and our desire to never grow up!