June 17th marks National Eat Your Veggies Day; a day feared by children and lauded by parents alike. But veggies don't have to come in their boring, cookie-cutter, steamed shapes anymore. Nowadays, eating your vegetables can be creative and delicious, all while giving your body tons of benefits!  It may be difficult for some of us to find the motivation to eat those pesky veggies, but here in Athens GA, delicious (and healthy) solutions are just around the corner!  
Vegetables aren't the most glamorous food group, but they are one of the most important for your body's health. Make an attempt to eat around 2-3 cups of vegetables per day, per the U.S. Government's recommendation. 
The good news: A diet rich in vegetables creates a reduced risk of heart disease and can protect against certain cancers. Veggies are low in fat and calories, and contain no cholesterol. Vegetables are also an important source of many nutrients, including: potassium, fiber, folate, and vitamin A and C.
For those looking for the best vegetarian eats in Athens, look no further than: 
 Even more Athens vegetarian restaurant options are found here.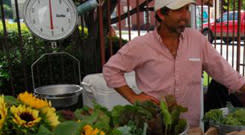 Help the local economy with #BuyFreshBuyLocal through shopping at one of Athens' many markets throughout the week.

Just recently, 
The Sunday Center Market opened at The 440 Foundry Pavilion which is home to artists, farmers, food trucks, and live music on Sunday afternoons. 
Also make sure to check out the 
For more ideas on how you can celebrate National Eat Your Veggies Day, take a look at our Pinterest Page dedicated to Athens inspired recipes and creative ideas to help your incorporate more vegetables into your diet today and every day!
               Follow Visit's board National Eat Your Veggies Day on Pinterest.