Last Saturday, October 6th, was a perfect day in Athens, GA. There were several large events including Zoo Day at Bear Hollow Zoo, the Pulaski Street Art Crawl and the DiXie Film Festival. I spent most of Saturday at the North Georgia Folk Festival at Sandy Creek Park. The park is located on Bob Holman Road, off 441, about 10 minutes from Downtown Athens.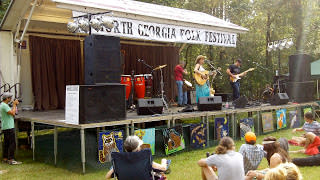 The 28th Annual North Georgia Folk Festival felt like a step back to a simpler time. It was wholesome, natural, and welcoming. The center of the festival was the stage, where musicians performed until 9 p.m. Blankets and lawn chairs covered the lawn in front of the stage, with dancing on the left side of the stage. Artists, vendors and demonstrators surrounded the stage and spectators. There were groups making brooms, quilts and knives. 
One of the most intriguing vendors created gifts out of license plate materials. So brilliant! I love the concept of making art out of something most would see as trash.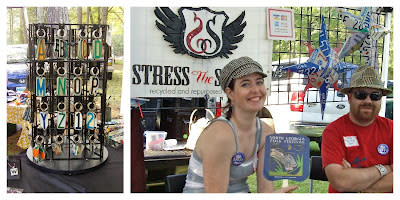 Stress the Seams turns license plate materials into birdhouses, keychains & jewelry.
An event in Athens, GA is never complete without some great food and the Folk Festival didn't disappoint!

King of Pops, Pork Tamale from Juan's Empanadas, Farm 255's FarmCart
And, of course, the music was spectacular!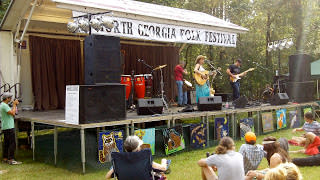 Blues & Guitar by Caroline Aiken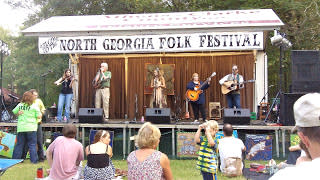 Irish Band, The Border Collies

In today's chaotic world, the Festival was a wonderful opportunity to pull away from a hectic schedule and tune in to exceptional musicians. Guests traveled from nearby Athens, the Atlanta area and out of state to enjoy the festival. I saw nothing but smiles on the faces sitting in the crowd.

Hate you missed the 2012 North Georgia Folk Festival?  Get a bluegrass fix on November 27th, when BlueBelly Grit will perform at the Melting Point for their Terrapin Tuesday series and recorded for a special production! It'll be a great night for Bluegrass faithful!

The North Georgia Folk Festival will be back next fall, so keep an eye out for dates at www.athensfolk.org.