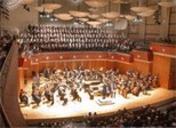 This weekend is all about the arts this weekend in Athens. From music to theater and everything in-between there is something for everyone. Check out some of this weekend's great ideas.

UGA Performing Arts Center

You won't want to miss these classics live.


Friday:

The Best of Andrew Loyd Webber. Performers have appeared on Broadway, in Carnegie Hall, and at the White House. 8 p.m. tickets range in price from $23-$28.


Saturday:

Academy of Ancient Music. One of the world's foremost period-instrument orchestras, will perform the Complete Brandenburg Concertos. 8 p.m. tickets are $34 for students and $39 for non-students.


Sunday:

Charles Wadsworth and Friends. Hosted by UGA Alumnus and founder of the Chamber MusicSociety of Lincoln Center. 7:30 p.m. Free.

Theater

Frederico Garcia Lorca's House of Bernarda Alba. March 25-28: 8 p.m. March 29: 2:30 p.m.
$10/Adult; $7/Student

MacBeth presented by Rose of Athens Theatre. Thursday, March 26: 10 a.m. school matinee Friday, March 27: 10 a.m. school matinee, 8 p.m. public performance Saturday, March 28: 2 p.m. and 8 p.m. $15 adults, $10 students and age 25 and younger.

A Bag Full of Fables presented by Athens Little Playhouse. Friday, March 27 at 9:00 a.m. and 7:30 pm; Saturday, March 28 at 2:00 p.m. and 7:30 p.m. Sunday, March 29 at 2:00 p.m.
Tickets are $10 general admission, $8 for students, children, seniors, and ALPS members. On Sunday, children's tickets are $5.

UGA Sports
Men's and Women's tennis vs. LSU. 3 p.m. and 5 p.m.