As a fourth year student at the University of Georgia, I was sure I had seen just about everything Athens has to offer. I'd been to Sanford Stadium, dined at Mama's Boy, and even jumped in the fountain at Herty Field. But, after taking a ride on the Athens Heritage Tour through Classic City Tours, I saw Athens from a whole new perspective. The daily tour is a must-do Athens attraction for visitors. 
The streets I walk down every day hold some of the most precious Athens historical landmarks, but it wasn't until now that I even knew of their existence.  When you drive down Prince Avenue, do you notice the beautiful antebellum mansions with incredible architecture lining the street or do you notice the McDonalds and Rite Aid on the corner? There is so much beautiful architecture amongst modern infrastructure if you take the time to look.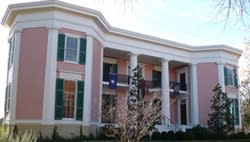 The old homes, statues and architecture throughout the city have an immense amount of history. On the tour, we visited several historic districts that have some of the cutest little homes. These old neighborhoods are wonderful because the Historic Preservation Commission works with residents to help protect the historic architecture. They also work with contractors and new home owners during the planning process to ensure that new homes adequately preserve the historic character of the neighborhood.  
The tour meandered through downtown Athens and later down Milledge Avenue. While many simply look at Milledge Ave. as the university's fraternity/sorority row, have you ever taken a moment to think about how those old mansions got there? Have you thought about when they were built or whom they belonged to? The Alpha Delta Pi house was built in 1858 for Dr. James E. Hamilton's four daughters. The ornamental iron work on the porch was shipped from England to Philadelphia in 1961, just in time for the last train down south before the Civil War ended Confederacy-bound traffic.  
When you're downtown, have you ever noticed the cannon facing North outside of City Hall?  It was a real cannon made in the 1800s for the Civil War.

Did you know the University of Georgia was originally going to be in Watkinsville? Do you know how Athens got its name? I learned so many interesting tidbits of information in just 90 short minutes and I left feeling more connected than ever to this city I've called home for the past four years.  
While students have infiltrated much of the historic districts, and modern infrastructure has hidden some of the most precious landmarks, the old southern charm still exists. Athens is a beautiful city. See for yourself!
Tours are offered on Mondays, Wednesdays, Fridays, Saturdays, and Sundays at 10 a.m. and 2 p.m. Call for reservations: 706-208-TOUR. For more information visit http://athenswelcomecenter.com/historictour.html.