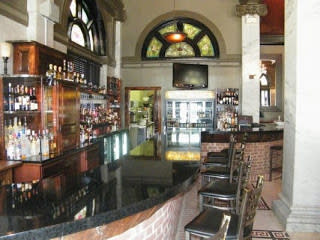 One of the things I love about Athens is that you can constantly discover new restaurants or stores no matter how long you live in the Classic City. While walking around downtown Athens recently, I noticed The Georgian Southeastern Chophouse.



The restaurant offers lunch on Monday-Saturday from 11:00 a.m.-2:30 p.m. & dinner Monday-Saturday from 5:00 p.m.-11:00 p.m. Sports fans will notice the menu features fun items such as SEC sandwiches (think the Ole Miss Running Rebel or the Roll Tide Tuna Melt), Ivy League Sandwiches, & Big 12 Burgers.




Additionally for the night owls & party animals, the restaurant features a full bar every night and a late night menu Thursday-Saturday from 11 p.m.-2 a.m. For just $3 you get a BBQ or Brisket sandwich, chips, & a pickle. I tried the BBQ sandwich after rave reviews from my roommate & it was well worth the $3. Though I should warn those with a mild tongue- it was a bit spicy.

For more information on their specials click

here

.

To view their full menu click

here.