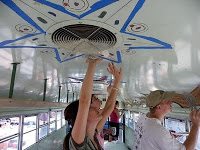 Celebrating Independent Bookstores

I'm part of a clear minority. I've never owned a PS2, Wii, Nintendo, or XBox. I've never gunned down a virtual alien on Halo... although I can see the obvious appeal. Kids today play for hours on end, completely fascinated by the action that is created by game designers and enhanced by their own imagination. This feeling is not wholly foreign to me. I've been known to devour entire books in one sitting, gobbling up the words as if I had just regained the power of sight. Unfortunately, as a college student, it's hard to find time to read for pleasure anymore with the looming deadlines of exams and research papers. Barbara Walter's Audition has been collecting dust in my room for months now.

The Unchained Tour of Georgia and author and founder of The Moth George Dawes Green invite you to slow down and finally find time to celebrate the art of writing and storytelling. The 14 tour stops, starting on October 20, 2010, will feature original stories, musicians, and circus performers. But it's really all about literature; enhancing the appeal of the written and spoken word and fostering a tradition of readership in the host cities. The Tour will highlight independent bookstores at each stop.

The performers will roll into Athens (on a re-purposed school bus!) on October 20, 2010 at the Seney-Stovall Chapel around 7:30 p.m. These are not your grandfather's tales, these contemporary stories, drawn from personal experience, are riveting, hilarious, and contemplative. So set down the controller, unglue yourself from the laptop and just listen as 5 fabulous storytellers make you laugh and cry. Hope to see you there!

Check out The Unchained Tour of Georgia Facebook page!
The Seney-Stovall Chapel is located at 201 North Milledge Avenue, Athens, Georgia 30602.