If you're planning on visiting Athens, Georgia for a concert, art show or University of Georgia event, you should know about a great alternative to driving into the Classic City! The drive from Athens, GA to Atlanta is relatively short at roughly 70 miles and takes about an hour and a half. I'm sure I speak for a lot of you, however, when I say that the drive up 316 can be... painful. Sometimes, I'd just rather not drive. If that's the case for you, as well, you know the other options are relatively limited. The light-rail system connecting the two cities isn't coming any time soon and I sure don't have the time and energy for a bike ride.
So, when I needed to meet my family in Downtown Atlanta for an afternoon engagement, I rode the Megabus and I'm glad I did!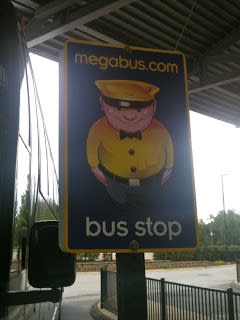 After spending the spring semester in Europe, public transportation and I got really comfortable. There was no other option. That mentality has made it's way across the Atlantic, but hasn't reached south of the Mason-Dixon. That's okay. But, my one-way ticket to the Civic Center MARTA Station in the shadow of the W Hotel cost just $3.50 and saved me the stress of driving down I-85.  It's so worth checking out!
I bought the ticket on the

Megabus website

about five days before my Wednesday afternoon trip. I brought my ticket with a confirmation number to the

Athens Multi-Modal Transit Center

, about a block from

The Classic Center

on W. Broad Street. The bus drops off passengers from Atlanta at this stop, too! If you're staying at a hotel in Downtown Athens or near the UGA campus, it couldn't be more convenient!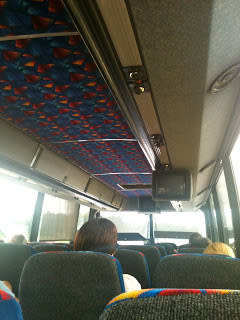 The bus left right on time at 1:30 p.m. I was joined on the bus by about 25 other people from all walks of life. Some passengers carried suitcases but most had nothing more than a purse or backpack. There were older people, young people, students and even a baby. Yes, she cried on the bus. Glad I packed my headphones! A lot of the Megabus routes use one of their special buses with outlets, wi-fi and other creature comforts but because I traveled on a low-traffic day, we were in a classic coach bus. 
At 2:59, we pulled off the Downtown Connector, turned left on Ivan Allen Blvd. and made it to the MARTA station. I only took a one-way trip but from what I experienced, I would definitely take the

Megabus

again.
When Megabus Would Be Ideal...
If you're staying close to the Multi-Modal Transfer Center (about three blocks from the Arch) or the Civic Center Transit Station (five minute walk to Centennial Olympic Park)

If you don't mind the constraints of a departure time.

If you're heading to or coming home from the ATL Airport. Get off the bus and walk down to the MARTA station for about a $5 commute, compared with a $40 shuttle. 

If your schedule works with their timetable. Most buses leave Athens around 8 a.m., 1 p.m., and 6 p.m. and go back to Atlanta shortly afterwards.
For a detailed look at the bus stops, click here and request Atlanta to Athens.
The drive should never be a reason to stop you from Visiting Athens, GA!
Let us know... Have you taken Megabus to get from Atlanta to Athens? How has it changed your commute?