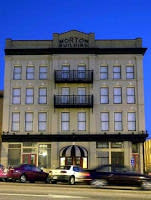 The Morton Theatre Corporation is counting down to its Centennial Celebration. In the first of these hosted "Countdown to the Centennial" concerts and events leading up to 2010, the Morton presents an evening of jazz with soulful artist Kyshona followed by Moyouba an Afro-Caribbean Drum Ensemble bringing the timeless rhythms of the Caribbean. The show begins at 7:30 p.m.

There will be 2 winners for this contest and each winner will receive 2 tickets.

The contest format & winner selection will be the same as previous contests (click here for a refresher). You have until 8 p.m. to enter.

Winner can pick up their tickets at the Morton box office the day of the show or call the box office at (706) 613-3770 to make arrangements.

Good luck!