UGA has an Ice Hockey team?  Why, yes, they do, and starting in 2014, their home ice will be right here in Athens, Georgia, at The Classic Center Arena.
A sold-out crowd of 2,000 fans will get their first look at the Ice Dogs on the new ice on April 9 at 7:30 p.m. as they take on Georgia Tech.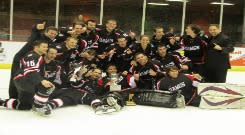 Here's the rest of the details, from a press release from The Classic Center:
"Ticket holders can enjoy pre-game entertainment featuring an Ice Dogs Walk, player autograph session, bouncy house, face painting, sure shot cage, stride board, music and more beginning at 5:30 p.m. UGA's Hairy Dog and the Hockey Ice Girls also will be entertaining fans.

The Ice Dogs Walk will be open to the public outside The Classic Center Arena starting at 5:30 p.m. at Dirty Birds restaurant on Washington Street and will continue through the main entrance of The Classic Center on North Thomas Street. The public is encouraged to come out and welcome the Ice Dogs as they enter their new home in Athens.
The Ice Dogs will play all of the 20 home games in their 2014-15 season at The Classic Center Arena between September and February.

On Tuesday, April 8, fans can be the first to purchase season tickets at Select-A-Seat Night. Come check out the new ice rink and available seat locations for next season! This is your chance to see the Ice Dogs in action as they practice while you check out the best view for the upcoming season. Doors open at 6:30 p.m., and the Ice Dogs practice at 7:30 p.m.
Reserved seating season tickets are $185, and premium reserved seating is $260. Fans can go to ClassicCenter.com to buy tickets, call 706-357-4444 or visit The Classic Center box office at 300 N. Thomas St. in downtown Athens.

Classic Center Executive Director Paul Cramer said he has been taken back by how the community has embraced the hockey team.

"We can't begin to express how grateful we are to the team and its fans for embracing this new home for the Ice Dogs," he said. "I'm excited to see the benefit this will bring to downtown Athens and the community throughout the season."
Visit www.ugahockey.com for additional information on the team.