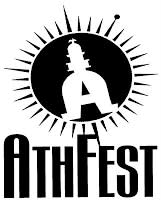 Can't wait for AthFest? Wish you could have a preview now?

Good news: you can! The Melting Point is hosting an Athfest Sampler Hoot tomorrow night at 7:30 p.m.


The event will feature music from Betsy Franck, Goodman Brown and The Corduroy Road plus Lombard, Norman & Hunter.

In addition to the music, they'll be handing out AthFest goodies!

Most importantly, the whole thing is

free.

Shows at the Melting Point cost a little something, so don't miss out on a great atmosphere & great preview!

Can't make it to the preview or want more after the preview? Don't forget to visit our website & take advantage of the AthFest package. It includes a hotel stay for two, two AthFest wristbands, CDs, T-shirt vouchers, and Music Heritage Tour tickets as well as a Downtown Gift Certificate ($10 value) and other cool AthFest gear delivered right to your hotel. Click here to reserve your package!