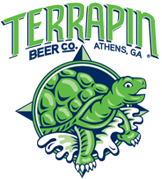 Terrapin Brewery is an Athens, GA staple. Looking back on Kaitlyn's post, Terrapin has obviously gained a following! Similar to going to The Grill or a football game, if you live in Athens, you must go to Terrapin at least once.

Terrapin Rye Pale Ale was released in Athens in April 2002 at the Classic City Brew Fest. Six months later, this beer, which was sold only in Athens, was awarded the American Pale Ale Gold Medal at the 2002 Great American Beer Festival, the most prestigious competition in North America. Founded by two brewers who share a commitment to creating world class beers unsurpassed in character and flavor, Terrapin brews its Golden Ale, Rye Squared, All-American Imperial Pilsner and several others.

For this week's freebie, I am cheating just a little bit. You can take a

free

tour of the Terrapin Brewery every Thursday, Friday, & Saturday from 5:30-7:30 p.m. However, if you want to taste the beers, it will cost you an $8 glass. But throw in the fact that there is live music, the tour

is

free, and that $8 also secures you tasting tickets for up to 32 oz. and I think it more than qualifies!

For more information on Terrapin, check out this latest video from

Here for the Beer

!