Taste of Athens is back for its 22nd year on Sunday, February 22, and we know that long-time attendees and curious newcomers alike will be excited about this year's all-new lineup of events and food & drink offerings.
Rachel Bailey, Development Coordinator for Community Connection and local food expert, tells VisitAthensGA about what we can expect.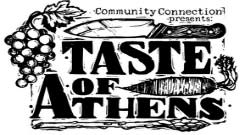 Take it away, Rachel! 
If you've been a supporter of Taste of Athens during its long tenure, of even if you're simply someone in the area who's interested in food, then you've probably caught wind of the fact that the event has changed significantly this year. Maybe, unsure what to expect, you're still on the fence about buying a ticket. If you're curious about the new look of Taste, I'm here to tell you what's in store.
The first thing you'll notice about Taste this year is the feeling in the room. We've moved from the Grand Hall of the Classic Center to the lovely Atrium space and decreased the number of guests to about 1/3 of the 2,000 people who attended last year. We want this year's event to feel like something akin to a cocktail party, where you can take your time and enjoy the company of your friends without having to rush to try all the food before it's gone.
Speaking of food, our chefs have taken the opportunity presented by the sharp decrease in number of mouths to feed and come up with some impressive offerings! We've got tuna tartare and dry-aged brisket meatballs and eggplant pirogues. We've got fried tomatillos and eggplant caponata and biscuits & gravy with duck confit. The chefs entered this year's Taste with the request to provide some of their most interesting, delicious food yet, and boy, are they set to deliver.
Finally, Taste 2015 presents alcohol in a new way. Rather than having a separate table where folks can line up for wine, we've grouped our restaurants into clusters of three and paired each cluster with its own wine, beer or spirit. We've worked with a local sommelier to find wines that pair well with the food, and we're excited to invite our guests to play with different flavor combinations. The structure of the event this year invites people to collect their wine and the "flight" of food that's paired with it all in one fell swoop, so folks can step away with a selection of different foods to try alongside their pairings. And it's not just wine - we also have craft cocktails from Kumquat Mae Bakery and Four Roses bourbon and beer from Creature Comforts and Terrapin, as well as Leon Farmer's selection of brews from all over the state.
It's our hope that with diminished crowds and the thoughtfulness that we've put into both the food and its presentation, Taste will become a more dynamic and satisfying experience for our guests, a tour of the Athens food landscape that you couldn't get anywhere else.
Of course, Taste's main purpose - as the major annual fundraiser for Community Connection of Northeast Georgia - remains unchanged. As always, proceeds go to support our programs, like the 2-1-1 information and referral helpline, or the community health needs assessment we are undertaking in partnership with St. Mary's and Athens Regional. More information can be found on our website, communityconnection211.org.
Tickets are available at tasteofathens.com. Contact Development Coordinator Rachel Bailey at rbailey@communityconnection211.org for more information.