Although Athens is a small town, it's made its mark on the map for music! With 2016 being the "Year of Georgia Music," this is the best time to immerse yourself in a city recognized as one of the 12 Best U.S Cities for Music Lovers! Athens has hosted incredible musicians over the years and is also birthplace for big names such as R.E.M, The B52's, and Corey Smith, just to name a few.
It'll be music to your ears to know that you can experience all of Athens' rich music heritage, in just one weekend! Explore Georgia recently treated a lucky winner to a Georgia Music Backstage Pass trip across the state. We are thrilled that Corinne Burstein (IG: @corinnekellyb) had such a great time in Athens, as you'll see as you travel alongside her through her Instagram feed. Corinne enjoyed a full two days of exclusive looks at Athens music hot spots and other must-see Athens attractions. It's your lucky day, because you can have the full VIP experience too! So pack your bags and head to Athens for your own music VIP getaway!
Day One // Friday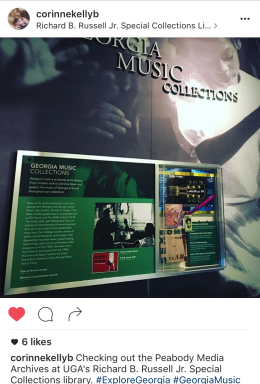 11:30 a.m. Corinne's first stop on her pitch-perfect visit was at the Richard B. Russell Jr. Special Collections Library, to check out the Georgia Music Collections and the Peabody Media Archives. The library periodically rotates the exhibits and showcases special pieces from the Music Hall of Fame archives, so you can check out what's on display. Take a self guided tour of the museum, or schedule an official tour with one of the library staff in advance! This isn't your typical museum or history lesson - we promise it will be far from boring!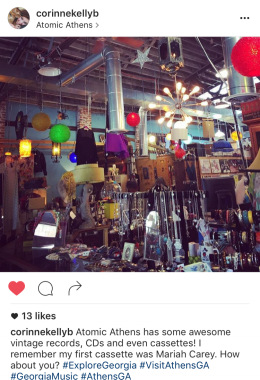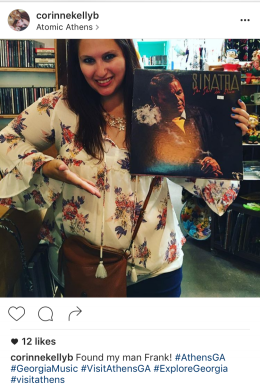 12:30 p.m. Corinne found one of Athens' gems, Atomic Athens Vintage Shop, and had a fun time exploring this funk junk extravaganza! Like any trip to a new city, you have to leave with some souvenirs. You'll find art, vinyl and vintage finds from over 50 vendors at this Athens co-op!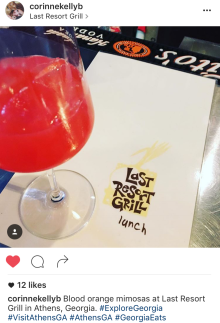 1:30 p.m. When you get hungry in Athens, you can rest assured that you and your taste buds will be taken care of! Anyone in Athens can confirm that Last Resort Grill is one of Athens' most trusted and most loved restaurants, but Corinne had to see for herself. It seems that the food lived up to the hype, well, no one can go wrong with a blood orange mimosa!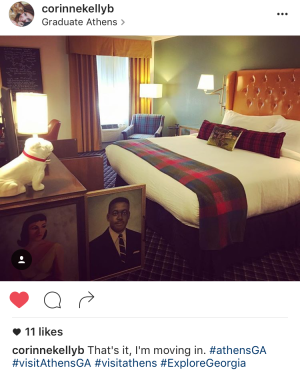 3:00 p.m. Luckily for Corinne, she got to stay at The Graduate Athens! This funky boutique hotel is sure to make you feel at home, with warm and friendly staff and eclectic and vintage decor. The hotel is situated near downtown, so you can wander around downtown at night or the university campus!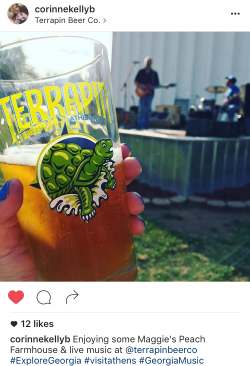 5:00 p.m. Corinne quickly realized that you can't visit Athens without going to one of the staple local craft breweries throughout town! Terrapin Beer Co. was established in Athens, a city as unique as their brews! You can take a tour of their brewery and enjoy a tasting of their various beers in their spacious backyard with live music, and a family and pet friendly environment! Terrapin offers weekend tours on Friday & Saturday from 1:00- 7:30 p.m and Sunday from 1:30-3:30 p.m.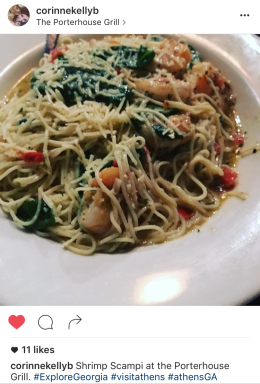 7:00 p.m. If this picture speaks to your taste buds, grab dinner at Porterhouse Grill, where you can order perfectly crafted cuisine in a casual steakhouse setting!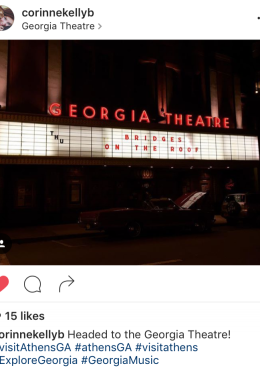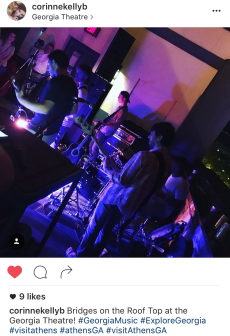 8:30 p.m. After dinner, it's time for cocktails and local brews! Enjoy one of the best views in town on the Rooftop of the Georgia Theatre, also known as one of the best live music venues in Athens. The Georgia Theatre is the heart of Athens' music scene, and has hosted well known bands such as the Goo Goo Dolls, Hooty and the Blowfish, and Zac Brown Band. Check out some tunes as you grab a drink! The Georgia Theatre is just one of Athens' many incredible music venues! Two of the larger music venues in town include The Georgia Theatre and the 40 Watt Club, both known for hosting some of the nation's top acts. Music in Athens never slows down, so you're sure to have plenty of options of performances to choose from during your visit!
Day Two // Saturday

8:00 a.m. Rise & shine and get ready for another happy day of exploring the Classic City! What better way to start the day than with a local favorite restaurant? You can't go wrong with Mama's Boy! Grab a cup of joe, Jittery Joe's that is, and savor a classic homestyle biscuit, or try out Georgia Peach French Toast. Your taste buds will thank you! Get there early to avoid a long wait and to allow more time for the rest of your day!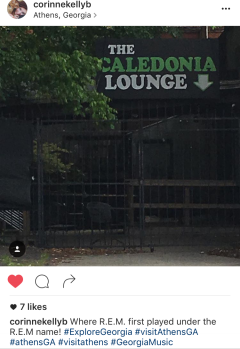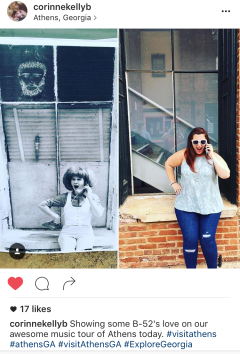 10:30 a.m A great addition to your weekend itinerary is an Athens Music History Tour, provided by the Athens Welcome Center. Corinne made time to walk in the footsteps of artists that gained their fame in Athens and fully immersed herself into the Classic City culture. You can see where R.E.M played their first show, pay visits to iconic music venues, pose like the B-52's, and shop where some of the stars once worked!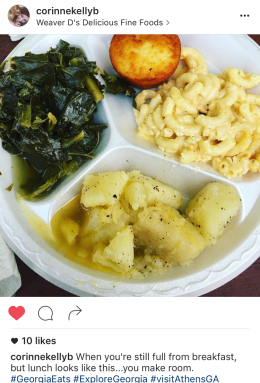 1:00 p.m. As Corinne said, you have to make room for Weaver D's!! Not only does Athens shine on stage, but it also has a strong presence in the kitchen. Lucky for you, we've narrowed it down to a few fan favorite eateries that you can't leave Athens without trying! Weaver D's Delicious Fine Foods is your go-to spot to chow down on classic southern comfort food! It was also clearly a favorite of R.E.M, because they named their 1992 album, "Automatic for the People", after the trademark saying of Weaver D's! While you enjoy your delicious homestyle meal, you can glance around at R.E.M memorabilia that the interior is decked out in!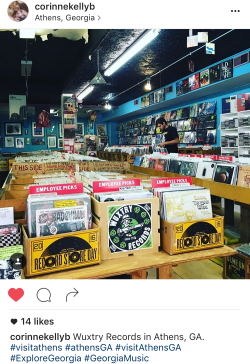 2:30 p.m Corinne hit the jackpot when she swung by Athens' very own Wuxtry Records. This independently owned store is a charm of Athens that has been around since 1976. Not to mention that Rolling Stone selected Wuxtry as one of its top 25 record shops in the U.S! You'll also be walking in the footsteps of Peter Buck of R.E.M and Danger Mouse, who at one time worked at Wuxtry!
3:30 p.m. Beer break. After a busy day, Corinne was able to kick back and enjoy a cold one at another one of Athens' local craft beer breweries! Creature Comforts is located in the heart of downtown and open for tours and tastings from 1-6 p.m on Saturdays.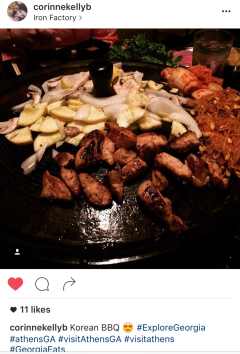 7:00 p.m You're going to want to have quite the appetite for this next meal at Iron Factory, a Korean style BBQ restaurant that provides an exciting dining experience, and it's obvious Corinne was loving it. With tableside grilling, you can watch your food go straight from the grill to your plate! With its convenient location downtown, you can follow dinner with a night out on the town! 
Day Three // Sunday
With stomachs full and memories to last you a lifetime, it's time to say a bittersweet goodbye to the Classic City! We hope that this inside look into Corinne's experience in Athens has inspired you to visit Athens and all that it has to offer! 
Want to learn more about Athens music? Check out our live music page here.