It's the first weekend in Autumn and this weekend in Athens, Georgia is going to be a wild one! There are so many different ways to experience the joys of the Classic City: food, football, history and music! With ESPN's College Gameday here, there's no better time than the present to celebrate this great city and all it has to offer!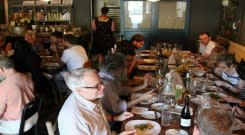 If you love to eat then this weekend is perfect for you!
Supper Club
is a private dining experience held in the beautiful converted storefront of the award winning home.made catering in Athens, Georgia. Created by chef Mimi Maumus, each Supper Club menu is individually crafted, seasonally relevant, and distinctively Southern. Supper Club is once a month on Friday evenings from 7 - 9:30 pm but they are now offering a second night of supper on Saturday to accommodate more people! The menu for this weekend is already posted so make sure to reserve your spot! The seats are $50 and they go fast so 
purchase
 them now!  
The
LSU Tigers
are coming to fight the Dawgs between the hedges this Saturday at 3:30 p.m. It's a big game for the SEC rivals, one that's sure to be fought until the very end. It's such a highly anticipated game that ESPN's
College Gameday
is going to be tagging along, covering all the action. They're setting up in Myers Quad and will begin broadcasting live Saturday morning at 10 a.m. Dawg fans are split on if this will mean good things for the game or not,
College Gameday
's attendance hasn't always boasted well for UGA. But if we're ever going to overcome the curse, and show Lee Corso once and for all that we're worth the hype, then us dawg fans need to show up early and stay late! UGA vs LSU is always an exciting game and you're not going to want to miss out so make sure you have all your plans set for
Saturday in Athens
!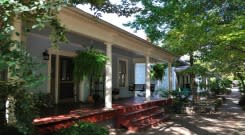 Another way to celebrate all things Athens, is to join the
Athens Clarke Heritage Foundation
on Sunday for an
Athens Heritage Walks
tour through the
Boulevard National Heritage District
. Boulevard, the first "streetcar suburb" of Athens, has a rich history that extends all the way back to 1890. The diversity that characterized Boulevard's development continues today as eclectic and creative types of homes abound. Join Pratt Cassity, the director of The Center for Community Design and Preservation, at 2 p.m. for a walking tour that will enhance your appreciation for this great city. It will last around 2 hours and is $12 for ACHF members, $15 for non-members.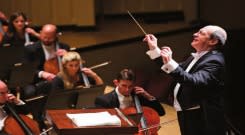 Athens is fortunate in many ways, including being home to the acoustically-superior UGA Performing Arts center to draw acclaimed acts such as the
Atlanta Symphony Orchestra
this Sunday. Pianist André Watts will join Maestro Robert Spano for an innovative program that features three "No. 3s" by the immortal "Three Bs" of classical music...Bach's Suite No. 3 for Orchestra, the Symphony No. 3 of Brahms, and Beethoven's Piano Concerto No. 3. Sunday is the perfect day to enjoy some beautiful music from your favorite composers so come on out to Hodgson Concert Hall in the
UGA Performing Arts Center
. The performance begins at 3 p.m. but there's a special pre-concert lecture that will take place 45 minutes prior. 
This weekend will be HUGE for UGA football.
LSU
and ESPN's College Gameday are coming and it's time we show them both what Saturday in Athens is all about! So, head out early -- and bring your signs! -- to join Kirk Herbstreit, Lee Corso, and the rest of the ESPN College Gameday crew at Myers quad, starting at 9 a.m. Don't wait to make plans! Check out
www.visitathensga.com/football
for all things UGA football-related!
Don't stay inside and miss out on all the amazingly fun things there are going on in
Athens, Georgia this weekend
! With good food, good music, and UGA football, it's the perfect opportunity to soak up the beautiful weather in our beautiful city! Have a great weekend and GO DAWGS!