Wine enthusiasts rejoice! May 21-23, 2021 marks the return of Athens Wine Weekend, the annual weekend of exquisite taste benefiting The Classic Center Cultural Foundation. This three-day celebration brings out the best of the best in the food and wine industry with several distinctive experiences all in one place. Athens Wine Weekend events are designed to be fun, approachable and enjoyable for novices and experts alike. Wherever you are along your wine journey, you are sure to find new tastes and experiences to delight. Wine Weekend is among the top things to do in Athens as a romantic weekend, date night, girls night out, or mother-daughter activity. Tickets are limited, so reserve your spot today! Weekend hotel packages are a great value, or pick and choose from individual events.
Friday night:
Amuse-Bouche
Kick off the weekend with the crowd favorite Amuse-Bouche, grab a delicious tapas plate hand-prepared by one of many favorite local chefs and savor the perfectly paired wine. Love the combination? Keep exploring other vendors and discover new flavor profiles and combinations. This year you can expect to see returning favorites like George's Lowcountry Table and South Kitchen + Bar along with new additions like Butcher & Vine.  Head home for the night or walk straight down the hall to the connected Hyatt Place hotel if you've booked a weekend package for an easy and all-inclusive experience.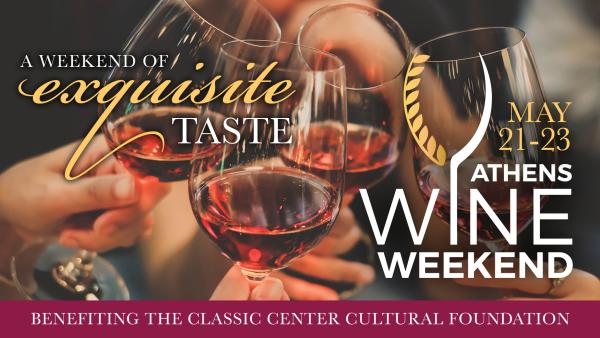 Saturday:
Grand Tasting & Gourmet Dinner
A small break Saturday morning is the perfect time to sleep in, or try one of many local breakfast and coffee hot spots. Head back to The Classic Center at 11:30 a.m. or 2:30 p.m. for your Grand Tasting, presented by Akins Ford. Two sessions create flexibility for your weekend and peace of mind knowing that they allow social distancing and time for extra sanitation measures during and between events. The largest of the weekend's activities, Grand Tasting is versatile and casual. Dress up or stay comfy while choosing from a wide array of wines to sip and sample. If you want to try a local lunch separately and then just enjoy drinks afterwards, then this is the event for you!
After perusing the selection of drinks, dive into one of the many seminars to expand your knowledge of the grape and learn from the best local wine educators.  Be sure to purchase your seminar tickets in advance, seats are limited and with session titles like "Chardonnay All Day," and "Balancing Food and Wine," they're guaranteed to fill up fast!
Get dressed up and top off Saturday evening with Gourmet Dinner. Sit and chat at your table and wait to be catered to luxuriously. Six courses of delectable food are placed right in front of you, each paired with the perfect wine to arouse the palate. Let your senses transport you to France as the chef introduces this elegant culinary experience.
Sunday:
Sparkling Wine Brunch
After heading home or back to a hotel for a night of rest, get ready for a morning person's dream event. Whether with your significant other, a group of girlfriends, or your mom who is enjoying this perfect Mother's Day present, sit down to a delicious spread at the Sparkling Wine Brunch. Specialty mimosas are the perfect treat to make this weekend one to remember.
Whether you decide to stay for part or all of the weekend, go into your next week refreshed and knowing that extra safety precautions were in place to ensure a positive event experience. 
Stay up to date on the latest information like vendors, restaurants, and sponsors at ClassicCenter.com/AthensWineWeekend.