For almost three decades, the Piedmont Gardeners have curated a spring tour of private gardens in Athens. The Athens Garden Tour is a much-anticipated spring event because these private gardens are not typically available for the public to visit. The self-guided tour is one of the most popular things to do in Athens for couples, mothers & daughters, or a girls' day out for anyone looking to gain inspiration for their own yard. Funds from the sale of tickets go towards scholarships and community projects, making the day a win-win all the way around!
The 28th Athens Garden Tour will take place Saturday, April 17, 2021, from 10 a.m. to 4 p.m., rain or shine. More information, online ticket sales ($20+ fee), and driving directions to the gardens are available on the Piedmont Gardeners' website.  
TIP: you can save money by buying $15 tickets in advance at local retailers listed on the website. Social distancing and face masks will be required. Gardens can be visited in any order.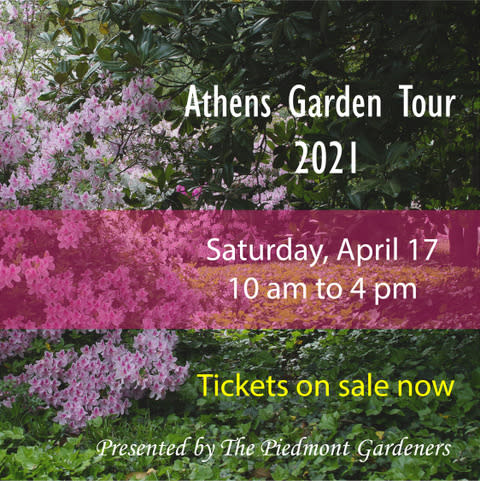 It takes a large group of volunteers to make this event happen. Volunteers that will be working on tour day gather for a pre-tour of the gardens. 
Connie Cottingham, garden and travel writer, is one of this year's volunteers and gives us a sneak peek at some of the gardens on the 2021 tour!
Bussell Garden

Stone paths and steps interwoven with groundcovers meander through gardens that surround the back lawn. Native azaleas in bloom command attention, acting as beacons to keep you oriented as you discover the back garden. In one area raised beds hold vegetables ready for harvest. Creative ideas with familiar items include a picnic table staging container plants or sedum draping from a platform bird feeder.
Brussack Garden

This garden's vast collection of hostas, epimediums, and iris are highly organized in trial beds and also dotted about the property. Plants grow so well that the owner has created impact by massing many of the same plant. Color echos are celebrated with white blooms from several kinds of plants together. Then yellow blooms are accented with golden foliage to do the same in the yellow garden. The raised bed vegetable garden also has perennials to provide color. The wildest celebration of plants in this garden border a long, straight path or oval lawn to provide the perfect balance. I will be volunteering in this garden Saturday and can't wait to point out its charms.
Strand / Johnson Garden

This garden makes you feel like you are in the North Georgia mountains, miles away. I started on a deck that looks down onto dogwood blossoms and meandering paths through woodlands. This garden is on many levels. What was once cotton terraces now is a woodland that offers calming views and a man-made creek that ends in a small pond. I could rock in the relaxing swing for an hour, listening to birds, watching the large orange fish swim and gazing at the graceful weeping bald cypress tree dipping into the water. In another area raised vegetable beds are accented with bright containers and painted daisies. The entry to the contemporary house takes a visitor through the garden to the front door. The owners have an amazing collection of Japanese maples growing throughout the garden.
Matthews Garden
Enter the white picket fence to find one of several spots where food is grown in a patch of sun: in raised beds, on a grape arbor, even a blueberry bush tucked into a corner in front of a window. The front filled with azaleas and a dry creekbed feels natural, cool and secluded. The back has a different feeling – active, fun, vital. Water flows from fountain and down several terraces in a stream. The view from the back patio is like a stage production – so much to see, but all working in harmony. Don't miss the Lady Banks rose on the garage, with colorful, fun décor beside the driveway.
I love garden tours –and this one certainly celebrates Athens and spring. I have written this blog post  pointing out some of the ideas I gathered in this year's tours, including more garden photos.
Guest blog post and photos by Connie Cottingham, garden and travel writer, conniecottingham.com.
Don't forget: The 28th Garden Tour of Athens will take place Saturday, April 17, 2021, from 10 a.m. to 4 p.m., rain or shine.
More information, online ticket sales ($20+ fee), and driving directions to the gardens are available on the Piedmont Gardeners' website.  
Plan a Garden Weekend in Athens
The Garden Tour of Athens is a wonderful time to make a weekend garden pilgrimage to Athens.
Did you know? Athens is home of America's First Garden Club! The Ladies Garden Club of Athens was founded in 1891. 
During a Garden Weekend in Athens, you can visit lovely garden spaces, including:
Visit our Gardens page for more attractions and experiences for garden-lovers.