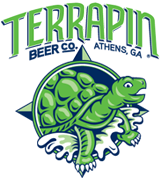 Every Thursday, Friday, and Saturday from 5:30 - 7:30 pm, Athens' own
Terrapin Brewery
gives tours and tastings. For $8, you get a pint glass (which you can keep), you can take a guided tour to see how Terrapin is made, you get 8 drink tickets to taste the different beers they have on tap, and there's live music. They usually have 6 beers on tap at once and they change seasonally.
I went last night, and took this short video just so yall could see what the atmosphere is like.
Overall, it's a really cool experience. It's neat to learn a little bit about one of Athens' most famous local products, and it's a fun social gathering - I ran into so many people I knew!
It's also a great price for everything you get - the tour, glass, beer, AND music! Doing all that downtown could easily run you $50, and Terrapin offers it all for $8. Next time you have a few hours to kill on a weekend afternoon, or if you're visiting and are looking for an alternative to the typical bar scene, definitely check out the brewery! Click
here
for directions.