After the fun we had with the AthFest contest, we'll be rolling more out in the coming weeks.

The first one will be short and sweet- only 1 day,

tomorrow (July 1)

.



How to Participate



In the morning, look for a tweet from the Athens CVB saying "I want to go to the Red, White, and Brewgrass Festival."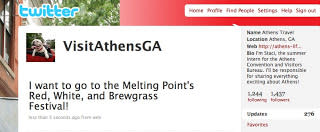 Once that goes out, just retweet us and we'll take care of the rest.



You have

until 8 p.m.

After 8, we will use a random number generator program to pick the winner & let everyone know!

The winner will then be added to the Melting Point's guest list for the festival and should bring a photo ID to the event to gain entrance.

Want more details about the festival?

The Red, White & Brewgrass Festival is hosted by Packway Handle Band & The Melting Point. On July 4, starting at noon, the Melting Point will feature 14 acts on 2 intimate stages for a full day of some of the region's best bluegrass and Americana bands. The festival is open to all-ages (children 17 and under must be accompanied by an adult). The event will be held rain or shine. A variety of food and beverage potions will be provided by the award-winning culinary team.

Performers include Mountain Heart, Packway Handle Band, The Jumpin' Jesus Christers, The Dappled Grays, Curley Maple, Mayhem String Band, Johnny Roquemore & The Apostles of Bluegrass, The Corduroy Road, Bob Hay & The Jolly Beggars, Peachtree Station, Solstice Sisters, String Theory, and Hawk Proof Rooster.

Good luck and happy tweeting!