Athens Originals
3 Day / 2 Night Group Tour Itinerary
Day One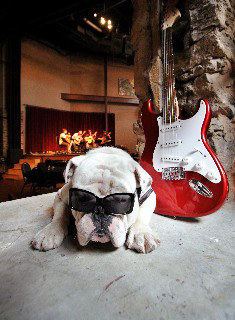 Morning: You need not be a "townie" to become intimately acquainted with Athens' greatest export--music! The Athens Music History Tour is an accompanied jaunt around town with insider commentary about all the famous figures and features of the local scene. Eclectic Downtown Athens is the hub of history and is scattered with shops, galleries, and African-American heritage sites. From the center of the college music scene, cross Broad Street and pass through the famed Arch to the college: UGA's historic and tree-shaded North Campus, site of the first state-chartered university in the country (1785).
Afternoon: Lunch on your own downtown offers numerous Athens flavors and flair. At The Grit or The Last Resort Grill you will marvel at the art on the walls as well as the food on your plate--and maybe chat with the staff, many of whom are musicians themselves. Then browse in the shops or search for a rare recording in Athens' renowned downtown local music stores. After an afternoon of soaking in the Athens scene, you'll be ready for a relaxing dinner with the group.
Evening: A true "farm to table" experience, Farm 255 features locally-grown food for you to savor at dinner--most of it traveling less than ten miles to your plate. After dinner, learn why Athens is "Live Music Central!" Pick up a Flagpole Magazine, published weekly, or check out flagpole.com to select your evening entertainment. You might catch a national touring act or a large regional draw at the 40 Watt Club or the Melting Point or a local singer-songwriter or underground upstart band at smaller clubs like Little Kings or the Caledonia Lounge. Or for a uniquely Athens experience, ask about visiting the Chase Park Warehouse complex: home to Trace Gallery, ATHICA: Athens Institute for Contemporary Art, and Canopy Trapeze Studio.
Overnight at one of Athens' fine properties.
Day Two
Morning: After a late night, nothing could be finer than freshly roasted and brewed coffee. Ask Charlie for a "Behind the Scenes" tour at Jittery Joe's Coffee Roasting Facility downtown to show you the ins and outs of coffee production and roasting. After, meet up with a guide from Athens Food Tours for a relaxing ramble that will take you into locally-owned restaurants for a sampling of the offerings and a chance to meet the people who have made Athens a foodie's paradise.
Afternoon: Make a stop at the State Botanical Garden of Georgia. Enjoy a delicious lunch at the cafe overlooking the International Garden. The 313-acre preserve features a stunning three-story tropical conservatory and gardens showcasing both native and international flora. On your way back toward the city center, visit the artists in the barn-like shop of R. Wood Studio ceramics, where hand-molded dinnerware is produced in accordance with their motto, "beauty everyday."
Evening: Dine at Five and Ten, the well-known restaurant of acclaimed chef Hugh Acheson, in the Five Points neighborhood, to see why he was named a "Best New Chef" by Food & Wine magazine and is a four-time James Beard Award nominee for the southeast.
Overnight at one of Athens' fine properties.
Day Three
Morning: Break away from downtown for a visit to the Georgia Museum of Art or perhaps a private viewing at one of Athens' many galleries. Check out contemporary art shows or stop in a studio for a glimpse of an artist at work. If you're in the mood to raise your heart rate, line up a workshop in belly dance, beginner trapeze, or tai chi and get a feeling for the way the city moves.
Afternoon: Ready for a tall, cold one? Lunch and a tour at Terrapin Brewery will hit the spot. Tour the brewery to learn the process and to see how local boys made good on the ultimate college-town business. A casual lunch and some taste-testing of the award-winning beer--brewed on-site--is the way to go. Take home a commemorative glass as a souvenir.
Contact the Athens Convention & Visitors Bureau to make itinerary and accommodation arrangements, 706.357.4430, toll free 800.653.0603 or Request a Destination Planning Guide.