Active Athens
3 Day / 2 Night Group Tour Itinerary
As the location of the annual pro cycling Twilight Criterium and other sporting events including triathlons, a half marathon, and adventure races, Athens , Georgia has its share of adrenaline junkies. This Athens outdoor and adventure group tour itinerary is designed for a group with lots of energy--you'll be moving around a lot.
Day One
Morning: Wherever you are in Athens, you're never far from the river. Start the day at Big Dog's On the River, where you'll take a sit-on-top kayak tour over shoals and down the Middle Oconee River through the center of Athens. A shuttle will take you to the launch point and you'll float back to the clubhouse.
Lunch: Your driver will take you to Five Points for lunch, where you can choose from eateries with options from big burritos to English pub food to classic deli sandwiches. After, visit The Hub Bicycle Shop or Half Moon Outfitters to stock up on gear.
Afternoon: Beat the heat for your next adventure at Active Climbing, an indoor rock climbing gym in the Railroad Arts District. Instructors will tailor your lesson to the group's ability.
Evening: Worked up an appetite? Grab dinner at Clocked, a fun and funky diner in Downtown Athens with a spacey '60s theme. After, get a taste for the nightlife at downtown's many hot spots, or retire to your hotel to rest up for the next day's activities.
Overnight at one of Athens' fine properties.
Day Two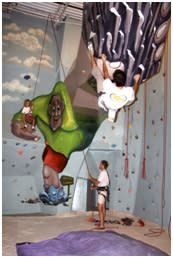 Morning: Sandy Creek Park is your playground, where your group can play through rounds of disc golf on the 23-hole course, swim in Lake Chapman from the park's beach, or rent fishing equipment and cast for bass and crappie on the lake. For lunch, a catered barbecue in one of the park's pavilions will satisfy with the ultimate open-air food.
Afternoon: An optional hike back toward the center of town will give you a different perspective on Athens as you enjoy the quiet of the outdoors. Cook's Trail, which connects Sandy Creek Park with Sandy Creek Nature Center, is a 4.1-mile, foot-traffic-only nature trail that traverses wetland and wooded landscapes. From the Nature Center, you'll return to your hotel by bus to freshen up for dinner.
Dinner: Enjoy a private meal at Mama's Boy on Oconee Street and near the North Oconee River Greenway. Mama's Boy specializes in "Southern Fun Dining," so expect a modern twist on classics like fried okra and pimento cheese, as well as drinks served in Mason jars.
Overnight at one of Athens' fine properties.
Day Three
Morning: Your day begins with a unique adventure at Canopy Studio, where your group will get a taste of where the arts meet athletics in a low-flying trapeze workshop. Instructors will tailor the activities--on what might be described as a playground for grown-ups--to the group's ability.
Afternoon: Lunch at the Gardenside Cafe at the State Botanical Garden of Georgia gives you a break in the midst of the tropical plants of the conservatory building. After lunch, explore the grounds of the Gardens or wander the five miles of nature trails that follow woodland streams and parallel the North Oconee River.
Contact the Athens Convention & Visitors Bureau to make accommodation arrangements, 706.357.4430, toll free 800.653.0603 or Request a Destination Planning Guide.