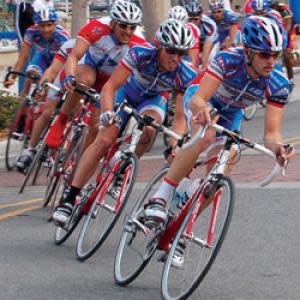 This weekend the busy streets of downtown Athens will be blocked off as the Classic City transforms into a festival of live music, street vendors and outside activities.
The 30th Annual Athens Twilight Criterium
is guaranteed to be a weekend filled with intense competition, music, arts and fun!

The 30th Anniversary Athens Twilight is a professional cycling event and festival for fans, families and racers. Founded in 1980 by Gene Dixon, Athens Twilight was the first nighttime race in the United States in over 60 years. What began as one race with 40 competitors has since grown to offer eight separate race classes and 150 cyclists competing in the main event, the men's criterium, a 60-km race around downtown Athens.

Renowned for the bike races held on the downtown track that runs over Clayton and Washington Street, Twilight offers more than just the proclaimed men's and women's cycling event on Saturday night. Athens Twilight offers outdoor stages with live bands as well as kid's play areas with moon walks, face painting, music and games-- there truly is something for the whole family.
So head to Athens this Friday to get up-close-and-person with your favorite professional riders as they battle it out for coveted starting places in America's best criterium. We hope to see you all here this weekend in the Classic City!
For a full schedule of events planned for this year's Twilight Criterium,
click here.