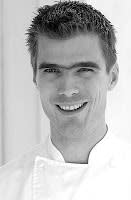 Of course everyone in Athens, GA has heard about how amazing the local restaurant
Five and Ten
is, but now it's time for the whole world to find out! Five and Ten chef Hugh Acheson will compete on Season 3 of Bravo TV's culinary competition show
Top Chef Masters
.
Although Athens is a small town, Acheson's talent has brought him big accolades including James Beard's Best Chef Southeast Award nominee for the past five years, one of Food and Wine magazine's America's Best New Chefs, and winner of Gourmet magazine's Most Appropriate Chef's Tattoo!
This season on the show, challenges will be elimination style, following the format of the original Top Chef. Celebrity chef Curtis Stone will be the host, and the 12 world-renown contestants will cook for celebrities such as Maroon 5, Mad Men's Christina Hendricks, and singer Kelis.
Don't miss the premiere April 6th at 11/10c on Bravo and in the meantime, if you haven't already, head to Five & Ten and get a taste of the famous Athens food from Chef Hugh Acheson!
Five and Ten
1653 S. Lumpkin Street Athens, Georgia 30606
(706) 546-7300