Where is the best place to ice skate in northeast Georgia?
Right here in downtown Athens, at Akins Ford Arena at The Classic Center.
Athens has the largest indoor ice skating rink in the area. It's National Hockey League regulation sized, so there's plenty of room to pull out your best moves (or keep others safe while you still need some practice.)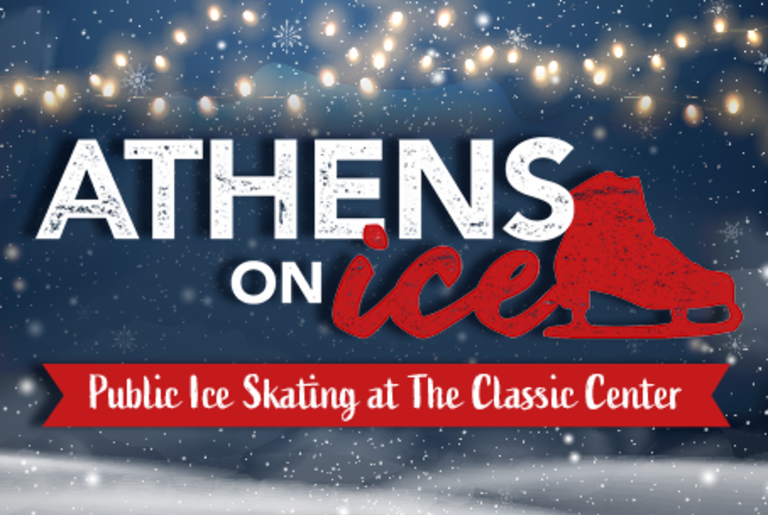 Here's what you need to know about ice skating in Athens, Georgia:
Athens Ice Skating Dates:
The indoor rink will be open from November 26, 2021 – January 9, 2022. After the indoor rink is removed for the season, a smaller outdoor rink will be installed for more fun.
How Much Do Ice Skate Tickets Cost?
Skate sessions are 75 minutes of fun at only $15 per ticket. All tickets include skate rental for the session. Sorry, there is no discount for bringing your own skates. Want to skate regularly all season?
Then grab a season pass for just $125 to enjoy unlimited skate all season!
Do I need to purchase ice skating tickets ahead of time?
The Classic Center has gone mobile which makes tickets purchases a breeze!  Because of this, all tickets must be purchased online in advance.  Visit ClassicCenter.com/tickets to reserve your space for the skate session of your choice and your mobile ticket will be emailed directly to your inbox for easy access.  
What if I Just Want to Watch?
No problem! All spectators are welcome -  mom, dad, young siblings, grandma, grandpa, anyone!  There is no admission price for onlookers. Simply let the friendly entry staff know you're there to watch and they will direct you to a seating area for observations.
Are there sessions without children in attendance?
Yep. Adult public skate is open skate available to guests ages 18 and up. 
What's The Best Ice Skating Tip?
If you need a little extra glide, rent a plastic blue seal to give you balance and stability. Grab a super-cute seal so even the littlest skaters can have fun on the ice with the rest of the family, or make way for some competitive ice racing as speed skaters push their pals from one end of the rink to the other! 
More Ice Skating FAQ: 
Discounted tickets are available for groups of 10 or more. Ice Skating makes the best holiday and winter outing for church youth groups, book clubs, office parties, family fun, sorority and fraternities, and more! Simply select the group rate during checkout for the session of your choice.
A Health Affidavit and Safety Waiver need to be signed by an adult prior to the skate session. This form can be found here for easy completion prior to your session.  
Volunteer to earn funds for your organization! Not-for-profits, school groups, and community groups can volunteer to work sessions at the skate counter to earn $1 per paid skater. Organizations must be able to submit a W-9 to receive payment. Email Foundation@ClassicCenter.com to learn more.