"Everyone knows they can get good food at Taste of Athens each February. We hope American Winter will help people understand that the good doesn't stop with the food -- not by a long shot."  
With those words, Rachel Bailey, special events coordinator for Community Connection, had me hooked. This Sunday's screening of the award-winning HBO documentary explores how 211 lines such as Community Connection's provide a lifeline to local families in need.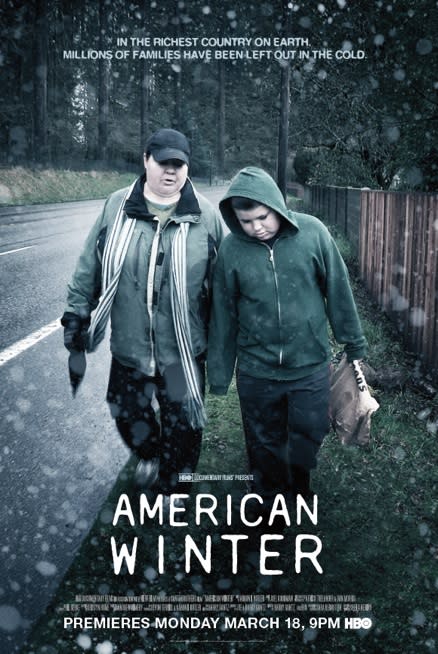 Here's what Rachel tells us about this weekend's launch of  an awareness campaign not only for the Taste of Athens event, but also for Community Connection's year-round work in our community:
Over the last two decades, Taste of Athens has become a local institution, a warmly communal night in chilly February, when the food lovers of our city gather to celebrate our ever-growing pool of culinary talents.

But what on Earth has that got to do with 211, the information and referral hotline for families in crisis, or the award-winning HBO documentary, American Winter, showing this Sunday at Cine at 5:30?

Like so many of Athens's signature events - from AthFest to the Boybutante Ball - Taste of Athens is a major fundraiser for a local nonprofit. Its beneficiary, Community Connection, operates the local 211 line, connects thousands of volunteers a year to opportunities to give their time, and has recently upped the ante of its nonprofit development services. With the help of new software, Community Platform, and a survey to be administered throughout the community in January, they hope to use the data they collect from their tens of thousands of 211 calls a year to better assess and address need in Athens.

The American Winter screening on November 9 is part of a campaign to raise awareness about all the good Community Connection does in Athens.

American Winter, produced by the Emmy award-winning team of brothers Harry and Joe Gantz, follows a handful of people who have called the 211 line in Portland through a winter. The finished product represents their desire to tell the story of the human toll of the Great Recession and a fraying social safety net.

We hope this film will whet people's appetites not only for tickets to Taste of Athens -which go on sale that day - but also for service and neighborliness. Buying a Taste ticket is one form of engaging in that, by supporting an organization that's working every day to address the greater problems in the Athens community.

For those interested in getting further involved in 'sewing the holes in the social safety net,' members of the Community Connection staff will be on hand to answer questions after the film and discuss ways for concerned citizens to give their time.

The newly imagined Taste of Athens is a small step toward greater economic growth in Athens.

We've made some major changes to the event this year, making it much more chef-inspired, food-driven and hospitality-focused. By getting back to basics and putting on an event that reflects the quality and creativity of our food community, we hope to grow Taste of Athens into the kind of regional event that draws in food and tourism dollars from out of town. 
Thanks, Rachel, for giving us the scoop on such a great event!
 
Tickets to American Winter, showing at Cine at 5:30 p.m., Sunday, November 9, can be purchased here. Tickets are $10 and all proceeds from ticket sales benefit Community Connection.