Photo by Reynolds Rogers © 2017
Uncovering Athens' Most Vibrant District
Risen from the kudzu on 160 Tracy Street in the Boulevard Neighborhood sits a hip and restored warehouse district.  Giving Athens a bigger city feel through its artistic element, Chase Park could be compared to the very early stages of SoHo in New York City.   The former cotton warehouses are home to several eclectic local businesses, as well as residential lofts. Chase Park has become home to musicians as well as startups; entrepreneurs desire to flourish in this dynamic, up-and-coming atmosphere.  So why, you ask, do these warehouses not get more public attention?  Beats me, but here is everything you need to know about the district that is on the rise, and what it has to offer. This area is about as local as it gets, in every aspect.
Short for Athens Institute for Contemporary Art, Athica is an independent, non-profit gallery solely focused on promoting local art.  More specifically, Athica aims specifically to support contemporary local art and artists, which makes it the first of its kind in the Athens and Northeast Georgia community.  Committed to the local art community, Athica hosts national and international contemporary artists of all sorts, thus showcasing rotating exhibitions (four major ones annually). Since its founding in 2001, Athica has continued to serve a unique and special role in the Athens community. By housing an extraordinary gallery space for artists as well as educating audiences, Athica is without a doubt Athens' hub for creativity and innovation.
Photo by Reynolds Rogers © 2017
Hip Pops
Named one of Athens' Favorite Local Businesses by Flagpole Magazine, this poppin' idea was born over dinner one night by a local herself, Melissa Fontaine.  After starting as just a fun game of naming flavors after hip hop artists, Hip Pops has since become a favorite among many for their simple ingredients, punny names, and delectable, unique treats. There are pops inspired by cocktails, cookies, pies (down to the graham cracker crust!), teas, and tons more.  Some of the many flavors include - Berriez in Da Hood: Strawberries and Cream, MC Slammer: Blackberry Mint Lemonade, and Ludacrisp: Chocolate Krispie.  
The Tree Room
Constructed in the late 19th century, The Tree Room has evolved to become a very special part of the Chase Park warehouses.  Literally a large mulberry tree inside four walls of beautiful rustic brick, The Tree Room has not always been as appreciated as it is today.  Used for several different things over the course of history, at one point The Tree Room was completely boarded except for a small hole you could climb through, and the only light that came through was through the canopy of the mulberry tree.  Today, The Tree Room is used for many events, including weddings. There is even a yoga studio that has its windows built right into the inside wall of the room, providing a peaceful view. However, for many, The Tree Room is just a charming little haven among the warehouse district to marvel at.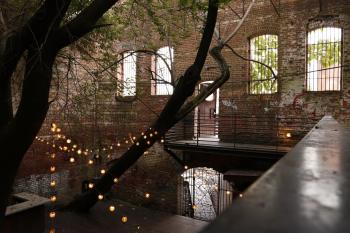 Photo by Reynolds Rogers © 2017
Guaranteed to give you that local Athens feel is none other than the Canopy Studio.  Housed in a warehouse where pros perform and train, Canopy is the place to go for all things trapeze dance.  The studio offers performances and classes in flying dance trapeze, movement education, and performing arts. Some guests have even included members of the Cirque de Soleil troupe.  Canopy offers classes to complete beginners, as well as private lessons if desired.  The studio also puts on camps, workshops for groups, and lessons for couples wanting to try something new. In addition, unlike many trapeze dance studios, Canopy offers classes for kids, too!  Canopy prides itself in being a community arts center that is dedicated to enriching the culture of the Athens community, and that it does.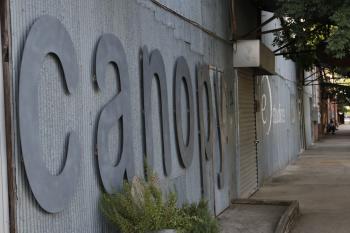 Photo by Reynolds Rogers © 2017
Veronica's Sweet Spot
As is custom in Athens, Chase Park does indeed boast a cute coffee shop. It only makes sense, right?  Opened by local musician Veronica Darby, the little cafe is known for its delicious espresso drinks, excellent pastries, and vibrant art.  Veronica is a friendly and engaging small business owner that has provided a unique element to the Chase Park area through her truly special coffee atmosphere that goes along perfectly with the artistic vibe of the district.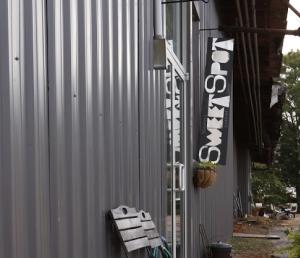 Photo by Reynolds Rogers © 2017
Built in the early 1900s, the 8,000-square-foot space has since been restored to provide a beautifully unique and rustic aesthetic for Athens' events.  Once home to the Atlantic Compress Company's cotton press, the Athens Cotton Press aims to serve the community as well as preserve its history through exposed brick walls, industrial steel beam work, and a touch of graffiti.  Whether it is hosting a casual dinner or a black-tie event, the ambiance is just right.  Just a mile from downtown, Athens Cotton Press is the perfect place to host a fabulous party right outside of the usually bustling downtown atmosphere.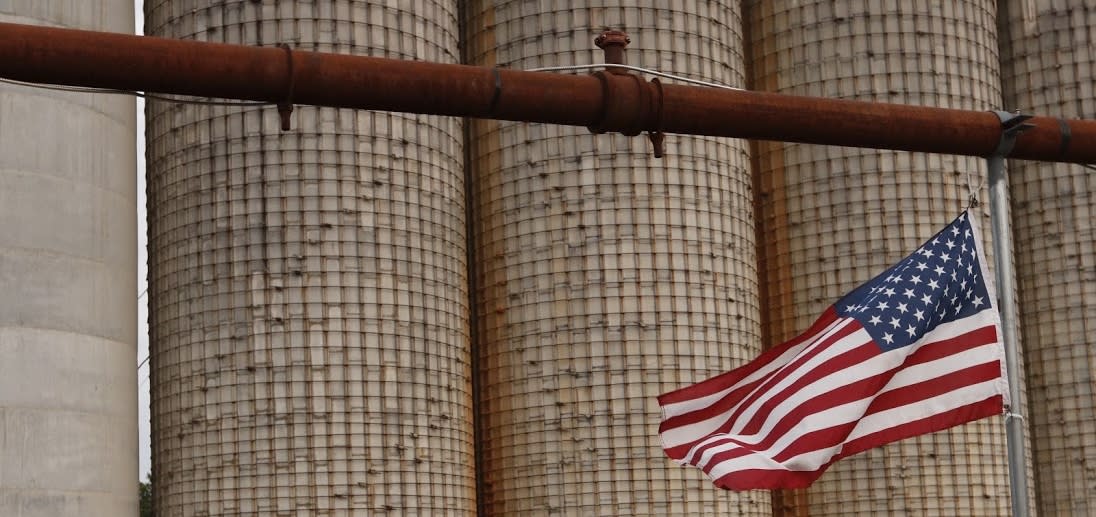 Photo by Reynolds Rogers © 2017
As if this wasn't enough convincing, take it from me; the Chase Park Warehouses are a true gem among all that Athens has to offer. Unlike many other areas in town, you have to really explore to realize just how unique and artistic the district truly is. After going through the Boulevard Neighborhood to arrive at what looks like just a big old warehouse, you will soon stumble upon individuals leaving a trapeze dance lesson, walking out of their loft to take their dog for a walk, stopping to enjoy their daily espresso, or in the middle of a photography session.  Once you take the time to check it out, you will appreciate all it has to offer as well as all that is still to come for this vibrant and dynamic community as it continues to come to fruition.