Sometimes its amazing how different things appear from a new perspective. This past week, as the
Welcome Center's Classic City Tour
took me up and down streets of Athens, GA that I travel so routinely, I was transported back in time, discovering the history and stories that lay in the foundation of the buildings I normally nonchalantly pass by. For locals and visitors to locations throughout the city to narrate the tale of tenants who lived in the regal and alike, the Classic City Tour offers insight into Athens' 19
th
century roots, taking guests to stately homes scattered throughout the city.
The first stop on the tour, the Church-
Waddel
-
Brumby
House, is where the Welcome Center is located. Before hopping onto the tour bus, my group was led through this historic early 1800's home. Furnished with fixtures from the time period and accurately modeled after the era, the home was the first step in my time travel back to the 19
th
century. The antique home, once located down the street and moved to avoid demolition, was home to notable Athens families, such as early past presidents of the developing University of Georgia.
Once on the tour bu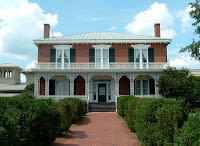 s, our knowledgeable guide took us to the long-standing
Lyndon House
. The well-preserved late Greek revival home with Italian influence remains standing in its classic splendor and is now home to a house museum and acts as the centerpiece of the Lydon House Arts Center. Recognized as a part of the National Register of Historic Places, this home 1856 has an amazing exterior that is perfectly tucked away on the edge of downtown Athens.
As we made our way through downtown, we passed fascinating sites,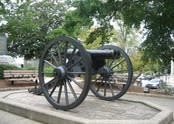 such as the
double-barreled cannon
, which is always pointed north, just in case, and the historically African American side of town. Our tour guide was full of interesting facts and Athens trivia, and we learning interesting facts about the area. For example, the first floor offices of the
Morton Theater
once played host to the first African American dental practice in the state of Georgia.
The tour bus then s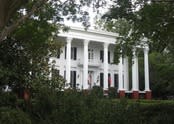 lowly took the group through the historic neighborhoods of Athens. Taking frequent stops for photographs and explanation of the structures' architecture and significance, I even became distracted and turned around as I discovered new areas of town. Streets lined with homes full of time-enhanced beauty and individual personality reaffirmed and expanded my love for the historic charm of Athens.
Seasoned Athens residents and tourists alike will leave this historic Athens experience with a heightened appreciation for the city's stories and background as seen through a 19
th
century lens.
Classic City Tours
offers an Athens heritage tour at 2 p.m. on Monday, Wednesday, Friday, Saturday, and Sunday, and their
$5.00 coupon
gives everyone a chance to experience Athens' history. If you've ever been in awe of the grandeur and dignified appearance of the stunning homes and buildings located throughout Athens, this is the tour for you.