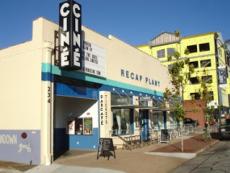 Birthday and anniversary wishes are in order this week as Cine, Athens downtown, art house cinema celebrates its second anniversary.

The cinema not only features film, but also contains a bar and cafe. This week the they will be showcasing a variety of foreign films representative of the films usually shown.

This week's festivities includes a line up of film's including: SILENT LIGHT with an introduction by Dr. Diego Del Pozo on Tuesday, March 31 at 4:15, 7:00 and 9:45; OUR CITY DREAMS with an introduction by Judith McWillie Wednesday, April 1 at 5:00, 7:00 and 9:30; and IN THE MOOD FOR LOVE with an introduction by Dr. Ari Levine Thursday, April 2 at 5:00, 7:00 and 9:30 on the theater's actual anniversary.

If you have not yet made your way to Cine, this is the perfect opportunity. With its unique European feel, out of the box movie selections and charming atmosphere, Cine is the perfect place to learn all about Athen's hidden gems. Click here for more information about this event.

To learn more about Cine's past, present and future, watch the clip below. You may be surprised to find the eclectic history behind its walls.