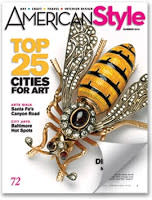 A
thens is known for being a great destination for all things art and music, and in its annual survey, AmericanStyle magazine has again ranked Athens among the nation's top 25 arts destinations. This is the ninth straight year Athens has been recognized for its arts community, and we ranked eighteenth among mid-sized cities! Go Athens!
Athens' arts offerings will expand in the coming months with the reopening of the Georgia Museum of Art in early 2011, which will add a larger scope to the already thriving local arts scene. Athens is home to numerous local galleries and museums, including the Lyndon House Arts Center and ATHICA: Athens Institute for Contemporary Art. Athens' downtown retail shops also feature a diverse range of local artwork, such a R. Wood pottery found at Toula's downtown.
Athens is definitely worth the trip if you are interested in the arts. It's a destination with thriving arts & cultural scenes, and if you haven't been, you need to come visit!
Below you can find a list of some of our favorite Athens arts locales, and a complete list of Athens art destinations can be found here! Enjoy!
Athens Area Art Council- non-profit arts organization
Aurum Jewelry, Art, & Gallery- amazing jewelry by award-winning local artists, plus regional art!
Ciné- independent films, galore!
Healing Arts Center- art for the mind, body, and soul!
Lamar Dodd School of Art Galleries- revolving shows of student, faculty, and professional art!
Lyndon House Arts Center- large airy galleries, a children's wing, artists' workshop, and gift shop!
Mercury Art Works at Hotel Indigo- showcases local and national multimedia artists!
R. Wood's Ceramic Studio & Shop- nationally acclaimed, one-of-a-kind, handmade pottery!
Railroad Arts District- collective of artists and businesses centered around the railroad tracks!
Visionary Growth Gallery- features local and national artists as well as disabled professional artists!