First Day of Classes in The Classic City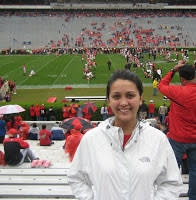 Hello! My name is Claire. I'm currently the Social Media Intern at the Athens CVB. I'll be handling your blog experience for the next few months. If you read a post here that reminds you of some awesome downtown night in Athens or a great restaurant that you went you recently, let me know. I'd love to hear all of your cool Athens stories.

I'm a student at The University of Georgia in my senior year. Originally, I'm from Norfolk, Virginia (757). I do miss the beach, but this area has an equally unique vibe. After living in Athens for 3 full years, I've finally gotten in the swing of its seasonal cycles. When all of the students have gone for summer break, everything around town is more laid back. Locals start venturing out more often and the restaurants serve the freshest local meats and produce from area markets. In the fall, the pace of living is much more up tempo. Students fill restaurants, bars, and shops. Fans fill the streets (and lawns) in the fall wearing the colors of the Dawgs.

This is the pulse of The Classic City.

If you haven't felt it yet, there are plenty of students and locals that would love to point you in the direction of the best that Athens has to offer. We can show you the best hiking trails. We can direct you to the cutest boutiques. And we might be able to describe how good the fried chicken is at Weaver D's.

I realized that in the past three years, I've amassed a wealth of knowledge about this place that no guide book or website can give you. You just have to ask. I'm excited to tell you some of the secrets I've picked up along the way. So get ready as I fill you in on all of the festivals, shows, and hotspots you need to go to. I'll take pictures and video so you can go on this adventure with me, but if you like what you see go check it out! Let me give you the insider scoop.