Athens is truly a city where you can find it all! It's a great mix of history, networking, music, local industry, great customer service, and excitement. Sometimes all in the same event. The Foundry Park Inn & Spa delivered on all of those things tonight as I took a tour of the historic Foundry buildings and Hoyt House. We were given a very detailed historical timeline, but I'll just hit the high points here.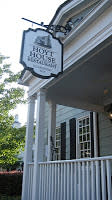 Some of the buildings we toured were built as far back as 1829, most were built for the original site except for the Hoyt House which was moved down the Oconee River at the owner's request. In true Athenian style, they have all been re-purposed many times during wartime, for industrial reasons, or just for fun. Currently the buildings collectively make up the hotel, spa, conference center, restaurant, and music venue. The upscale amenities make it a tourist hot spot right in the heart of downtown Athens. It has raised the standard of hospitality and customer satisfaction, winning numerous awards, since opening in August of 2001. Here are some pictures from the Hoyt House: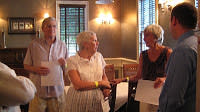 Here is part of our tour group talking to our tour guide (right).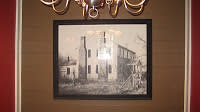 Here is a picture of what the Hoyt House looked like before its recent renovations.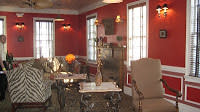 Inside the 2nd story of the restaurant, which opens for breakfast and lunch.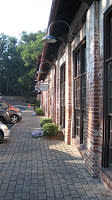 The original Foundry buildings have been restored several times. Previously, arms and munitions were manufactured here during the Civil War. Around 1862 John Gilleland designed the most famous double-barreled cannon which he forged right here in Athens. The symbol of UGA, the arch, was also forged in this building. 148 years later students are still walking through those same arches (and working on that whole "Wisdom, Justice, and Moderation" thing). Shortly after a fire devastated the Foundry, it was abandoned for almost 100 years. It's okay though. Partying is way better in cool, previously abandoned buildings. Everyone knows that.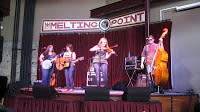 Currently, The Melting Point is a popular concert venue specializing in jazz, bluegrass, and local acts. Bluegrass band, Exception to the Rule, is warming up on stage tonight complete with banjo, guitar, violin, and cello. The chick on the violin is playing crazy fast. She is definitely on par with that white-bearded guy who plays the violin downtown on the weekends (look for him near General's).

I'm sitting right in front of the stage because I got here early for the tour. I see my fellow tourgoers ordering fancy sounding dishes and complicated drinks. Despite the weird names, I'm totally jealous. The guy next to me has received his plate of fabulous $2 tacos from the chatty waitress. Whatever. I'm just going to sip my Terrapin Sunray Wheat and write this blog.