The weekend of AthFest I had the privilege of taking an Athens Music History Tour. Since it was AthFest weekend, I was already in the music spirit and had high expectations for a tour of a city so rich in music history as Athens. After about 2 hours of sights, scenes, and interesting music tidbits, my expectations were exceeded. Paul Butchart, former member of the band Side Effect and local Athens scenester, guided us to music monuments all over Athens and shared some of his stories from back in the day. Needless to say, he had tons of great personal stories about underground parties and hazy early mornings with the band.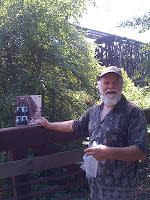 We started out the tour at the Welcome Center Kiosk downtown and headed ove
r to t
he
old railroad trestle near the Oconee River that was featured on the cover of R.E.M.'s
album Murmur. After everyone got their picture with R.E.M.'s album cover in front of the trestle, Paul continued to entertain us with ridiculous stories and random Athens tidbits.
After a short bus ride (it was air conditioned!), we headed over to
394 Oconee Street, which is the old sight of
St. Mary's Episcopal Church ( aka "The Church"),
where
Bill Berry, Pete Buck, Mike Mills and Michael Stipe of
R.E.M. played their first-ever gig
(and Paul's band, the Side Effects opened, naturally). Only the steeple remains now, so everyone piled in front and snapped some pics before we continued on our way.
After we passed by some Athens classics like Weaver D's and warehouses that used to host the best concerts and parties back in the day, we drove around downtown as Paul pointed out the old locales of the 40 Watt Uptown, classic record stores, and music hot spots.
The next highlight of the tour was the trip to the cemetery behind Sanford Stadium, which, although I have driven by numerous times, I had never ventured into. As we passed the graves of familiar names like Brumby and Baldwin, we finally reached the grave of Ricky Wilson of the B52's.
As the tour progressed, I realized I knew far less than I thought I did about Athens' music history. I have been over to Barber Street off Prince Ave. more times than I can count, but I had no idea it was known as the "Sidewalk of the Stars." We walked the street and saw the carvings in the sidewalk by legends like Michael Stipe, things I had never noticed until that moment.
As the tour came to a close, we headed through the Boulevard neighborhood and Normaltown, and Paul kept his discretion as he refused to tell exactly which house was Michael Stipe's of R.E.M. We headed past some Widespread Panic historical sites, then walked down the railroad tracks towards another R.E.M. album cover site. Once again, it was another Athens legend that, had I not known otherwise, I would have missed.
All in all, I loved the Athens Music History Tour. It never ceased to amaze me that everywhere we went was somewhere familiar, yet I was totally unaware of the rich history behind scenes.
I learned tons of interesting facts about places I thought I knew all about, like Last Resort Grill, for example. Although I've been eating there about twice a week for the past four years, I had no idea that Last Resort started its days as a music club and bar before it started serving its delectable food.
Anyone remotely interesting in music or Athens' history needs to be sure to check out this greatly informative tour. There wasn't a boring moment, and between Paul's epic stories and the rich music history, this tour truly makes it evident why Athens has been repeatedly voted America's #1 Music Scene by Rolling Stone among many others.
If you want to see the complete route we took, click here.
If you have an interest in taking an Athens Music History Tour,
Classic City Tours offers a Music History Tour by prior arrangement for groups of 5 or more. Give them a call at 706.353.1820 or toll free at 866.455.1820. No time for a tour?
To see some of this music history in action and to hear further comment on it,
rent the 1987 film
Athens, Ga.: Inside/Out
.