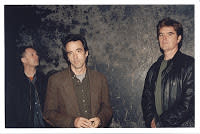 The fifth annual Athens PopFest, to be held August 10-14, 2010, is produced and presented by Happy Happy Birthday To Me Records. The festival is a discerning music fan's fantasy land: more than 60 independent pop and rock bands at three clubs over five nights. The festival is still intimate enough to feel like the shows are big parties full of friends, and it's hard to imagine attendees won't find something to love. The PopFest organizers announced the lineup and schedule this past week and until Monday, May 31 at noon, there is a sale on tickets--$40 for a full-festival pass. Prices will rise to $45 thereafter.

Check out the full schedule here, which includes Mission of Burma (pictured), The Wedding Present, Apples in Stereo, Circulatory System and SO many more.

If you want to take advantage of the ticket sale price, hurry, and buy your pass here.