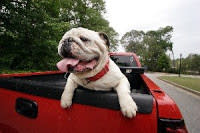 Travel around & party like a local throughout Athens, GA this weekend! Or practice for football season by cheering on some local sports teams!



Friday


See where your beer comes from

(hint: it's not the tap or fridge)

. Terrapin Brewery Tours & Tastings. If you can't make it Friday, Terraphin hosts tours on Thursdays, Fridays, & Saturdays, from 5:30 - 7:30 p.m. See the brewing process first hand, get tastings of Terrapin's full line of award winning beers, and stick around for local live music!
Abbey Road LIVE! at the Georgia Theater on Friday, 10 p.m. This high-energy local band will cover the Beatles' Abbey Road and other late-era Beatles rockers from Sgt. Pepper, the White Album, and more. Don't miss out on the special family show on Saturday afternoon!

Fiction Family

, the alternative rock duo that features Jon Foreman of Switchfoot and Sean Watkins of Nickel Creek, will be perfoming at the Melting Point. 9 p.m. Tickets are $16 in advance or $20 at the door.
Looking for a country night? Jot 'Em Down Country Store & BBQ will be serving up their famous dishes alongside local country legend

Redneck GReece

. The show starts at 6 p.m. Traditionally the show features 2 sets- one the whole family can enjoy and a second set that might make you want to leave the kids at home.
Saturday

Athens Farmers' Market. Come celebrate treasures that are uniquely ours. Our food grown in our soil by our farmers. Our crafts made in our homes by our artists. Our music, our merriment, and our memories. This week's music lineup: Leralynn, and the Athens Folk Society Band.

Come out & support the

Classic City Rollergirls

as Athens own female flat-track roller derby league takes on Charleston in the first home meet of their season. The meet will be held at Skate-A-Round USA at 7 p.m. Tickets are $10 for adults & $5 for kids. A portion of the proceeds will help support Hands On Northeast Georgia. Then join the Rollergirls for the after-party at Kingpins.
For more sports action, check out the

Classic City Tigers

, Athens' own semipro football team in their second season, as they face the Atlanta Red Villains. Home games are played at Billy Henderson Stadium at Clarke Central High School. Kickoff is 7 p.m. & tickets are $5.
For more information on these events or to see more calendar listings, visit our website here.