Another weekend is upon us, and boy is it a cold one! Stay warm and entertained this weekend as you explore all that Athens, Georgia has to offer. With a variety of art exhibits and thrilling aerial dance performances, there's something for everyone here in the Classic City!
Unleash your inner artist this weekend as you explore the expansive galleries at the
Georgia Museum of Art
! ?These exhibits highlight a variety of countries, ranging from sub-Saharan Africa to the Soviet Union. See the beauty for yourself on Friday and Saturday from 10 a.m. to 5 p.m. and Sunday from 1 to 5 p.m. Can't make it this weekend? No worries! The Museum is open during the week as well. Be sure to visit the GMOA website for full
gallery hours
.
 
?Canopy Dance Studios
presents an aerial performance that's both thrilling and family-friendly. Featuring dancers from right here in Athens, Georgia, this annual performance incorporates trapeze, fabrics and other invented flying apparatus that are sure to impress! And the best part? There are four shows over the weekend to fit even the busiest of schedules: 8 p.m. Friday, 4 p.m. and 8 p.m. Saturday, 4 p.m. Sunday. Don't miss out on this exciting local performance!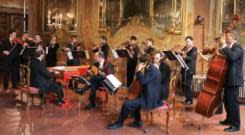 Europe has officiatelly made its way to Athens, Georgia! The
Venice Baroque Orchestra
 is one of Europe's premier ensembles devoted to to period instrument performance--and trust us, you don't want to miss this rare Classic City show! ?In fact, after an appearance at the National Gallery of Art, the Washington Post praised the group's "percolating energy and lithe, silvery tone." Enjoy the music for yourself this Sunday at 3 p.m.
More events...
Terrapin Brewery Tours- every Wed. - Sat., 5:30 - 7:30 p.m.
Bear Hollow Zoo Open House, Sat., 1-4 p.m.
Meet a Veteran Food Journalist, book signing at Avid Bookshop, Sat. 4 - 5 p.m.
Want a complete list of all upcoming activites going on in Athens? Explore our event calendar at
Visit Athens, Georgia
. Join the
mailing list
to stay in the loop about exciting events going on in the Classic City!