The weekend is finally here! Come and spend a relaxing weekend in the Classic City. With all of the exciting festivals, musical performances, and even more for the entire family, we know your weekend in Athens, GA will be amazing! Here are a few events that are taking place this weekend.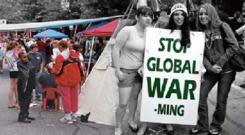 The 34th Annual Athens Human Rights Festival is a springtime political and cultural tradition in Athens. The festival features a dynamic, educational, and family-friendly weekend of oratory, music, activities for the children, and street theater performances in an outdoor setting. This event is perfect for the entire family! This festival will take place Friday and Saturday at College Square in Downtown Athens,GA. There is no admission charge, so make sure to bring everyone you know! 
The Athens stop on the PGA's Nationwide Tour is entering its seventh year, and its third with the University of Georgia as host. This annual golf tournament will be operated by the University's Auxiliary Services Department. All net proceeds from the event will support need-based scholarships for UGA students and local non-profit organizations through the Regional FirstCare TICKETS Fore CHARITY program. This is definitely an event you will not want to miss. It will  be taking place all week long, and it is only $25 for a weekly grounds pass. 
Bike MS: Deloitte. Atlanta to Athens proudly announces its third-annual ride on May 5-6, 2012. After its inaugural debut in 2010, buzz is escalating throughout the cycling community for this two-day ride that raises money to fight multiple sclerosis and benefits the GA Chapter of the National MS Society. The ride offers a century route option on day one of the 2-day ride and new for 2012, Bike MS: Deloitte. Atlanta to Athens is offering a separate 1-day, 35 mile route option that will start and finish in Athens. Don't miss out on this exciting opportunity, all for a great cause!
These are just a few of the exciting events that are taking place in Athens,GA this weekend. Here are a few more ideas that will hopefully spark your interest:
These are just a few of the many exciting events happening in Athens,GA. Hopefully you've read something that you are looking forward to!

 Be sure to check out our

 Visit Athens, GA 

calendar

 for a full list of even more events and activities! 
To stay in the know about what's coming up in Athens, join our mailing list!
What are you looking forward to this weekend in Athens,GA?