After a fantastic 17-9 win against #2 Florida, the University of Georgia Bulldogs will play the Ole Miss Rebels for the 2012 Homecoming game! UGA alum or not, this weekend is an ideal opportunity to visit Athens, GA for great music, food and football. What more could you ask? 
Welcome home, Georgia fans! This week is full of activities for students and special events for Alumni in celebration of Homecoming! Friday night, head Downtown for the Homecoming Parade at 6 p.m. Saturday, head to Sanford Stadium for some fun Between the Hedges! Kick-off is at 3:30 and the Homecoming King & Queen will be crowned at halftime! Go Dawgs! 
Saturday afternoon, Terrapin Brewery hosts the 3rd Annual Chili Cook-Off benefiting the Athens Area Humane Society! Over 20 charities will submit their special chili

recipe

for consideration with samples for the crowd! The charity with the most votes will win $300! Come enjoy great Terrapin brews

and live music!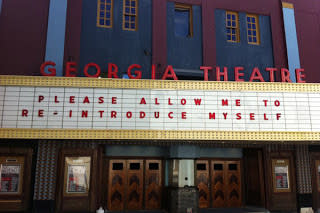 A great football weekend is BETTER with music!  Saturday night, Jimmy Herring Band and Victor Wooten Band will take the stage!
Jimmy Herring is best known as the lead guitarist for Widespread Panic. Five-time Grammy winner Victor Wooten is a multi-instrumental musician and more. Get ready for an extraordinary amount of musical talent from both bands! 
After the Homecoming game, head to the Theatre for a fantastic show by Moon Taxi and Tea Leaf Green! Moon Taxi has gathered a strong following across the Southeast and has become a regular on the Athens music scene. Tea Leaf Green, based out of San Francisco, will no doubt wow the crowd!
More great events happening around Athens, GA
Want a complete list of all upcoming activities and goings-on in Athens?  Explore our event calendar at Visit Athens, Georgia.
 
 
Join the 

mailing list

 to stay in the loop about exciting events going on in the Classic City!