After the UGA football team's win over LSU last Saturday, it would be a tall order to try and top all the fun of last weekend! But with so many events going on this weekend, Athens, Georgia has all you need to continue the celebration right on through October. It's finally that time of year where the temperature is just right, and you'll take any excuse to spend the day outside! Well, the Classic City has all the excuse you need because this weekend there is so much going on under the warm Athens sky!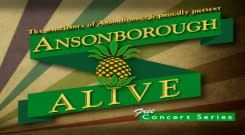 Eastside Athenians have long awaited a music and entertainment venue.
Ansonborough Alive
is a new, free music and community event sponsored by the merchants of Ansonborough of Athens. This family-friendly event will feature live music, ice cream provided by the Lil Ice Cream Dude, and Ansonborough's merchants will be serving food and beverages for purchase. Bring lawn chairs or blankets because there will be plenty of space to spread out and enjoy the live music outdoors! With no admission charge, you really couldn't ask for a better way to spend a Friday night!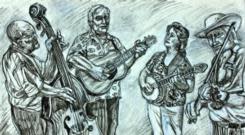 Kicking off the weekend right is the
29th Annual North Georgia Folk Festival
! The festival will be held Saturday 10-5 at
Sandy Creek Park
and is perfect for friends or family. There will be kids' activities from 11 a.m. to 2 p.m., free of charge, including supervised crafts, booths, and exhibits by
Bear Hollow Zoo
and
Sandy Creek Nature Center
. Craft demonstrators will also be on hand from 11 a.m. to 6 p.m. showing how various folk crafts are created and in some cases offering hands-on activities for participants. Additionally, the festival will feature artists and vendors selling corn shuck dolls, jewelry, pottery, glass, wood carvings and much, much more. All of that isn't even including the music! The folk music line-up is stacked, but none more exciting than the headliner of the festival, folk music legend John McCutcheon! Gates open at 10:30 a.m., music begins at 11:30 a.m. and continues until 9 p.m. Grab your friends and lawn chairs; everyone is welcome to attend this family-friendly Athens fall tradition! Admission is $12 for adults, $7 for students with student ID. Children under 12 are admitted to the festival free. There is an additional $2 entrance fee to Sandy Creek Park for everyone between 4 and 65. For more information about the festival, visit
www.athensfolk.org
.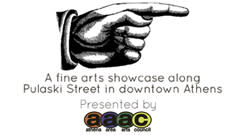 If Folk really isn't your style, not to worry! Head on over to downtown Athens on Saturday from 5 - 9 p.m. for the 3rd Annual
Pulaski Street Art Crawl
! The event brings together artwork by more than a dozen local fine artists, pairing them with businesses and studios along Pulaski Street. Along the half-mile walk, you can also enjoy some food, drinks and live entertainment. The Art Crawl will start at the Leathers Building and end with a huge block party at the corner of Pulaski and Broad streets. Local potter Rebecca Wood will loan pieces for serving food, and local foodie landmarks
The Grit
,
Pulaski Heights BBQ
,
Siri Thai
,
Big City Bread
,
Gigi's Cupcakes
,
Sweet Pepper's Deli
,
1000 Faces Coffee
and
Earth Fare
will provide food for the block party at the end of the crawl. The event is free and open to the public so make sure to come on down to Pulaski on Saturday to experience all the many different types of local culture! Head on over to
athensarts.org
for more information.
The UGA football team is in Tennessee for the weekend, but they'll be back here to play Mizzou before you know it! If you've ever been to a football Saturday in Athens, then you know you can't wait until the last minute to make your plans! The Athens Convention and Visitors Bureau has all the tools to help you with that! For all things UGA football, including tips on where to park, what to eat, or where to stay, visit
VisitAthensGA.com/football.
 
There is enough going on this weekend in
Athens, Georgia
to keep you busy straight through Sunday! With all different types of local music, local food, and local art, it's weekends like these that show just how special the Classic City really is. Make sure to get out and take advantage of all the amazing things it has to offer! Have a great, safe weekend and GO DAWGS!