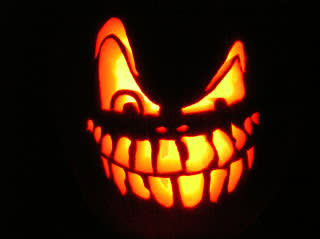 While many of our fellow Dawgs' fans are headed to Jacksonville for the annual Gator showdown, there are still ghouls and goblins left to entertain those of you staying in Athens this Halloween.
Friday October 30th:
Kick off your Halloween weekend with a visit to Terrapin Brewery. Terrapin will maintain its normal schedule this weekend with tours starting at 5:30 p.m. Enjoy live music by local acts Mac N Chz and OpEx. As always, tasting glasses are just $8 for eight sample pours. Come out and sip on your favorite brews as well as a few special projects, including a special pumpkin ale for the fall!
The fabulous 40 Watt Club opens its doors at 9 p.m. Friday with an eventful evening of "Halloween Ghouls Gone Wild". DJ act Krush Girls headline the event. The festivities continue on Saturday at 9:30 with the CD release party for Dark Meat's new album Truce Opium. Cover for each night is $8 for those under 21, and $6 for those over the legal age. Visit the club's website for more details.
Take a break from to the spooks and scares to enjoy some Bulldawg athletics. UGA Soccer hosts the Tennessee Volunteers Friday evening at 7 p.m. at the Soccer Complex on Milledge.
Saturday, October 31st:
Halloween in the Classic City takes a wild turn this year with what is sure to become an Athens tradition. The Wild Rumpus Halloween Parade and Spectacle will take the sidewalks of downtown Athens at 10 p.m. In the style of events like The Burning Man and the Oregon Country fair, the vision of the Wild Rumpus is to provide an avenue for the massive, "bubbling stew of artistic self-expression, costuming and gleeful abandon" which manifests with such awesome power every Halloween. The Wild Rumpus will serve as a safe and highly visible outlet for the creative energies of Athens' most spirited inhabitants! After circling downtown a few times, the parade will culminate with a celebration at Tasty World Uptown. For more information including meeting location, costume guidelines, and key local ordinances please visit http://www.wildrumpus.org/.
Athens nightclubs are world-renowned for their live music, and the scene doesn't get any better than on Halloween! Go Bar presents Bodies, a Sex Pistols cover band, followed by a goth rock disco dance party. Caldeonia Lounge features a one-of-a-kind acts with Girls Own Love, an all-girls Andrew W.K. cover band. Weezer cover band Hear You Me is the Lounge's second act that evening. These are just a few of your frightful music options this weekend. Be sure to Check the Flagpole for a complete list of musical events.
Don't count the Dawgs out of the annual Georgia-Florida showdown in Jacksonville this weekend. Watch the historic rivalry on CBS at 3:30 p.m.
Sunday, November 1st:
Halloween may be over but the spirits of Athens past are still with us. The Athens Cultural Heritage Foundation continues to host their Athens Haunted History Walking Tour until Tuesday November 3rd. Hear the stories of bitter apparitions, scorned lovers, tragic souls, and Confederate soldiers with unfinished business. Come ready to awaken the spirits of the Classic City with a two-hour tour spanning through downtown and North Campus. Tours begin at 7 p.m. and are $12 for ACHF members and $15 for non-members. Be prepared to see a side of Athens you have never seen before!
Great music, creative costumes, and wild times are sure to make this a Halloween to remember. Visit the CVB's event calendar for more festivities. Have a fantastic (and safe!) Halloween!... and GO DAWGS!