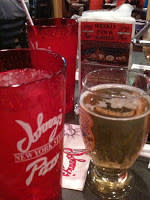 If you're looking for pizza AND trivia, I suggest Johnny's on the East side. The food is pretty standard for a pizza place, but the weekly trivia game is a must. The vibe is relaxed due to a healthy rotation of regulars, locals, and upperclassmen. They have appetizers and domestic pitchers ($4.95!!) on sale that night as well.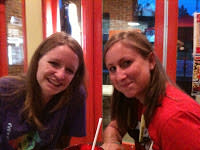 We've been going to Johnny's almost every Tuesday since February and have gotten to know a bunch of the regular teams. Invariably, we can always count on at least one of them to shout out the answer, one to pull out their smart phones on every question, and one to have the coolest name. This week ours was "Sorry for Partying..." (aka: Focusing on Italian homework and watching the Braves/Nationals game) Apparently we were doing a little too much partying, coming in dead last this week. It's cool though, we always have a great time. Below is a picture of our score card.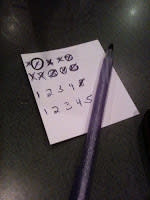 I like this weekly game for two BIG reasons.
1. You can sometimes weasel a few extra points out of the trivia master if you come up with the most creative answer.
-"Sequoia is the wrong answer."
-"No, that's the Latin name for Redwood."
My plea for points was like pulling up for that half-court shot with 2 seconds left on the clock, 68-67. I am not Lebron James.
2. Controversial questions usually end in an iPhone battle of epic proportions. Like this question:
"What is the name of the princess in the Super Mario series?"
The answer to this question is obviously Princess Peach Toadstool. Every single team wrote this answer, and every team got it wrong. You can imagine the uproar.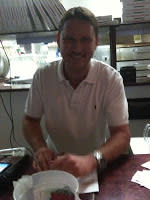 Hope to see you there next week! Bring your game face :)