Starting this spring, there's a new way to experience Georgia's best barbecue and breweries! The brand new Brews & Q's Trail guides you through 14 counties in the middle of the state from Athens to Perry, hitting the top barbecue restaurants, craft breweries and growler shops along the way. We reccomend starting off in Athens, as both of the featured breweries along with Pulaski Heights Barbecue are right here. If eating great food and sampling great beer isn't enough of an incentive, you can earn a FREE T-SHIRT as a reward for visiting ten locations!
Athens' own Creature Comforts and Terrapin Brewery are two craft breweries to visit in your journey and the pair boasts beautiful tasting rooms along with delicious beer. Both have won numerous awards and offer a variety of brews, including seasonal specials. You can sip some suds at both then head to Pulaski Heights Barbecue for some prime pork. Pulaski Heights is right next to the train tracks in a historic neighborhood and was voted as Athens' Favorite Barbecue for 2014, so you're sure to be satisfied.
Continuing South out of Athens, some of the highlights of the trail include Fincher's Bar-B-Q in Macon, whose BBQ was taken into space by astronaut Sonny Carter, and Wild West BBQ in Monroe which hosted Florida Georgia Line's 2013 music video for "Round Here." All of these restaurants have a story to go along with their tasty food so be sure to take in the atmosphere as you pig out.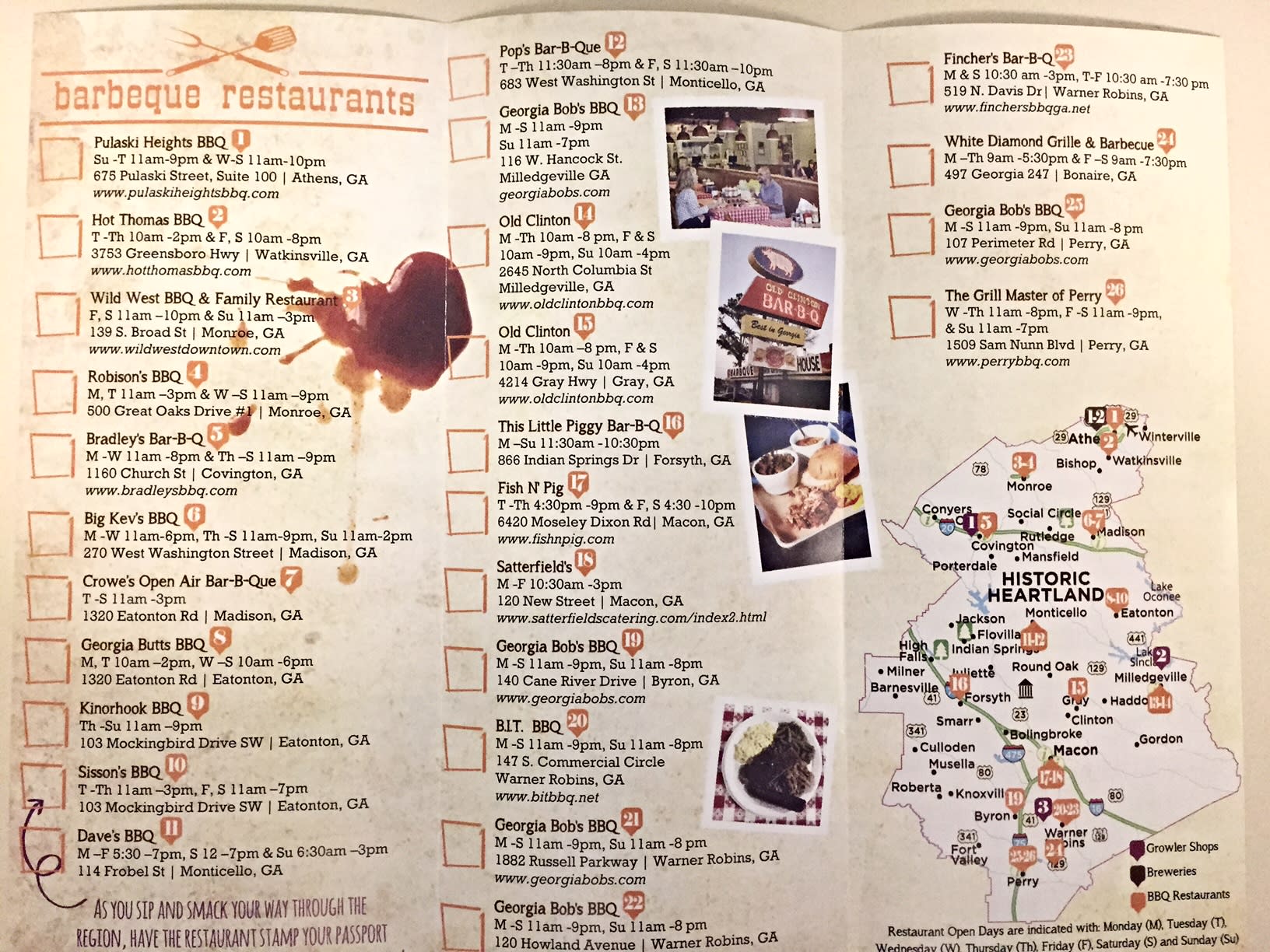 Traveling the Brew's & Q's trail is a great way to sightsee in Georgia's Historic Heartland so be sure to explore the history of the area and stop by some museums as you partake in pork. This beautiful part of the state is worth visiting by itself, so throw in the Brews & Q's and it's a can't-miss. These are all family-owned locations as well so you can chat with the owners and workers about the history of their business.
I have already visited the two breweries and Pulaski Heights BBQ, so I am charting the course for my next barbecue endeavors. From Monroe to Macon to Milledgeville, there are 31 total locations to visit and I would not be opposed to visiting every single one. Stay tuned for updates on my delicious travels through the region on my way to a celebratory free shirt!
Pick up your own free brochure and start exploring the Historic Heartland's Brews & Q's today! They are available at participating locations as well as the Athens Welcome Center and Regional Visitor Information Centers.